This amazing paper model
of a
fully functional Foldable Bike
, was created by
Korean designer Zaeco
. Visit the website
to download the templates
and see the
super detailed tutorial, full of photos,
that
Zaeco
did.
If you have trouble finding the download link
,
CLICK HERE
to see a
picture of how to download this model.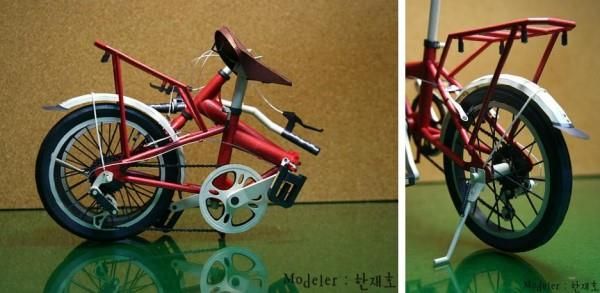 Este incrível modelo de papel
de uma
Bicicleta Dobrável totalmente funcional
, foi criado pelo
designer coreano Zaeco.
Visite o site para baixar o modelo e ver o
tutorial super detalhado e repleto de fotos
que
Zaeco
fez.
Se você tiver dificuldade em achar o link para download
,
CLIQUE AQUI
para ver uma
imagem de como baixar este modelo.
Link to download the model: Korean.Folding.Bicycle.Paper.Model.In.1/6.Scale.by.Zaeco.Download
Link to photo tutorial:
Korean.Folding.Bicycle.Paper.Model.In.1/6.Scale.by.Zaeco.Instructions
More Paper Models in 1/6 Scale related posts:
This Is Not Paper, But... - Incredible WW2 Dioramas In 1/6 Scale - by Kampfgruppe Von Abt
Miniature Pumpkin Boxes In 1/6 And 1/12 Scales - by Miniatures About
Commander Adam Malkovich Paper Model Character - by Ignatius Papercraft
Star Wars - Boba Fett And Han Solo In Carbonite Paper Models - by Noturno Sukhoi