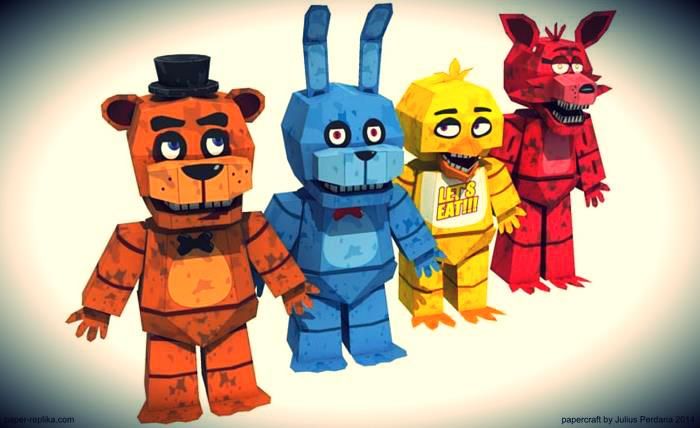 Five Nights at Freddy's is a 2014 indie point-and-click survival horror video game
developed by
Scott Cawthon
. The game centers on the fictional pizza restaurant
Freddy Fazbear's Pizza,
where the player must act as a
night security guard,
defending themselves from the
malfunctioning animatronic animal characters
by tracking their movement through the facility
using security cameras
. According to
many players on forums on the internet
, this is
one of the scariest games of the year.
This
paper toys
were created by
Indonesian designer Julius Perdana,
from
Paper Replika
website. -
Take a look at the video below and draw your own conclusions.
Five Nights at Freddy's é um game tipo survival horror, aponte-e-clique independente
, desenvolvido por
Scott Cawthon
, em
2014.
O jogo se foca no restaurante
Freddy Fazbear`s Pizza
, onde
o jogador é um guarda de segurança
, defendendo-se dos ataques dos
personagens animatrônicos com defeito
, acompanhando o seu movimento através da instalação
usando câmeras de segurança.
De acordo com
muitos jogadores em foruns na internet
, este é
um dos jogos mais assustadores do ano.
Estes
paper toys
foram criados pelo
designer indonésio Julius Perdan
a, do site
Paper Replika.
- Dê uma olhada no vídeo abaixo e tire suas próprias conclusões.
Link:
Halloween.Special.Five.Nights.At.Freddy's.Paper.Toys.by.Paper.Replika
More Halloween Paper Toys related posts:
Gremlins` Mohawk Paper Toy - by Sercho 05 - via DeviantArt
Halloween Special - The Bat Mobile - by Ray O`Bannon / RavensBlight
Halloween Special - Zombie Freud Paper Toy - by Matt Hawkins
Halloween Special - Skelanimals - by Paper Model Factory