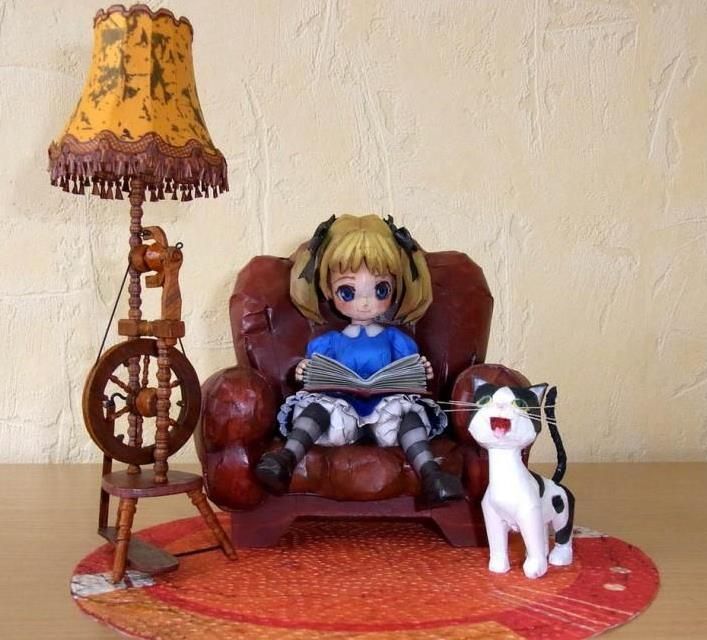 This weekend

we have a

perfect paper version

of

Alice and her cat, Socrates

, from

Odin Sphere videogame

. This

model

was created by

Japanese designer Kujiracraft

and the

beautiful assembly

that you see in the

image above

was made by

German modeler Reinhard Fabisch. To view and print this model you will need Pepakura Viewer Free Version (link at the end of this post).

WARNING

: be aware that when you click on the links to download you will be directed to a page where there are

erotic content advertisements, for mature audiences

.

Este final de semana

nós temos uma

perfeita versão em papel

da

Alice e seu gato, Socrates

, do game

Odin Sphere.

Este

modelo de papel

foi criado pelo

designer japonês Kujiracraft

e a

belíssima montagem

que você vê na

foto acima

foi feita pelo

modelista alemão Reinhard Fabisch. Para visualizar e imprimir este modelo você precisará do Pepakura Viewer Versão Gratuíta (link no final deste post).

ATENÇÃO

: fique ciente que ao clicar nos links para download você será direcionado para uma página em que há

propagandas de conteúdo erótico, para público adulto

. Link to download the model: Odin.Sphere.Alice.And.Socrates.Diorama.by.Kujiracraft.Download Link to construction report: Odin.sphere.Alice.And.Socrates.by.Reinhard.Fasbisch.Construction.Report Link to Pepakura Viewer Free Version: Pepakura.Viewer.Free.Version.Official.Page About "The Weekend Pic" -

It will always be an

image of a free model, built by a designer found in forums around the Net.

I would like to

ask the cooperation of all friends of the blog to indicate some models for this weekly post

. The only requirement:

the model needs to be freely distributed and there must be a link to this assembly or construction report

.

Sobre "The Weekend Pic" -

Será sempre

uma imagem de um modelo gratuíto, construída por um designer achado ao acaso em foruns ao redor da Net

. Eu gostaria de

pedir a colaboração de todos para indicar modelos para este post semanal

. A única exigência :

o modelo tem que ser de livre distribuição e tem que haver um link para esta montagem, de preferência com fotos de várias etapas da montagem

.

More The Weekend Pics related posts: The Weekend Pic - The Clock Tower Diorama - by Papermau The Weekend Pic - Church Of Transfiguration - by Micro / Canon The Weekend Pic - Passenger-Carrying Coache - by MiZi / Paper Camera The Weekend Pic - Leaning Tower Of Pisa - by Michel Cerfvoliste / Canon