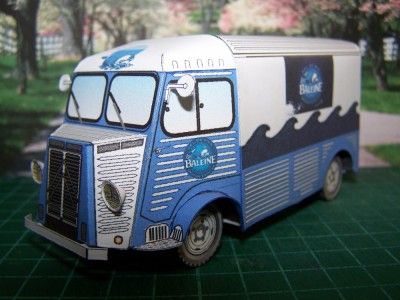 Using as base an original template of French designer and modeler Camille, Papadenati created this three cool Citroen HY paper models.
All models in 1/50 scale. Via le Forum En Papier.

Usando como base um template original do designer e modelista francês, Papadenati criou estes três belos modelos de papel do Citroen HY.
Modelos na escala 1/50. Via Le Forun En Papier.
Link 01:
Citroen.HY.Paper.Model.La Baleine.by.Camille.&.Papadenati
Link 02:
Citroen.HY.Paper.Model.Les.Comptoirs.by.Camille.&.Papadenati
Link 03:
Citroen.HY.Paper.Model.Vichy.by.Camille.&.Papadenati
More Paper Models of French Vehicles related posts:
Citroen Type H Paper Cars In 1/40 Scale - by PierreG
1933`s Chenard et Walcker - La Mistral Paper Car - by Agence Eureka
Panhard Et Levassor 1894 Vintage Paper Car - by Denis - via Le Forum En Papier
Citroen DS Paper Cars - by Ichiyama`s Paper Cards