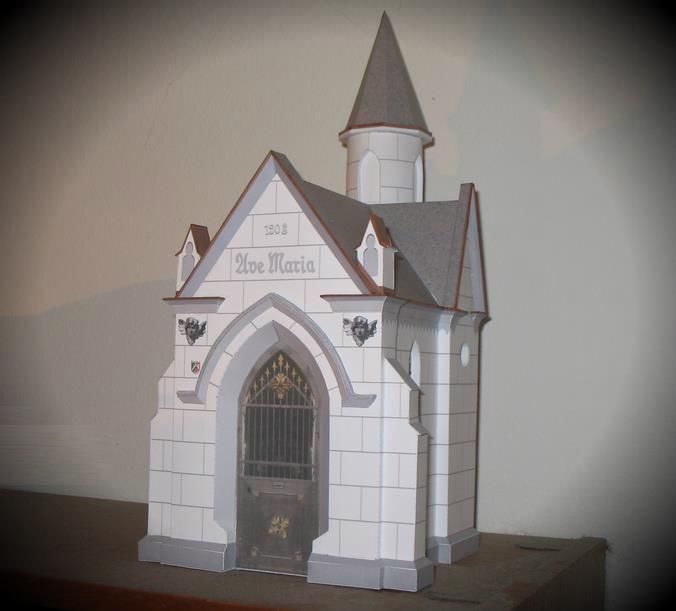 This little German chapel called Heckel
was assembled by
North American modeler ASC McLaren
and
he kindly posted a little step-by-step
with
photos of the process of construction
at
Zealot Forum
. You can
download this model at Kallboys German website
(
link at the end of this post
). The
model
is in
1/25 scale
.
Esta pequena capela alemã chamada Heckel
foi montada pelo
modelista norte-americano ASC McLaren
e ele
gentilmente postou um breve passo-a-passo com fotos
do
processo de construção
no forum
Zealot
. (link no final do post). Você pode
baixar este belo modelo
no
site alemão da Kallboys
. Esta
igreja
está na
escala 1/25
.
Link to download the model:
The.Weekend.Pic.Heckel.Chapel.Paper.Model.by.Kallboys
Link to construction report:
The.Weekend.Pic.Heckel.Chapel.Paper.Model.by.ASC.McLaren
About "The Weekend Pic" -
It will always be an
image of a free model, built by a designer found in forums around the Net.
I would like to
ask the cooperation of all friends of the blog to indicate some models for this weekly post
. The only requirement:
the model needs to be freely distributed and there must be a link to this assembly or construction report
.
Sobre "The Weekend Pic" -
Será sempre
uma imagem de um modelo gratuíto, construída por um designer achado ao acaso em foruns ao redor da Net
. Eu gostaria de
pedir a colaboração de todos para indicar modelos para este post semanal
. A única exigência :
o modelo tem que ser de livre distribuição e tem que haver um link para esta montagem, de preferência com fotos de várias etapas da montagem
.
More The Weekend Pics related posts:
The Weekend Pic - Church Of Transfiguration - by Micro / Canon
The Weekend Pic - Fire Brigade Truck Vintage Style - by Papermau
The Weekend Pic - Cambojia Angkor Wat - by Kurt Streu / Canon
The Weekend Pic - No.16 Prost Peugeot AP03 - by DimMyPrp / Yasu Tanaka