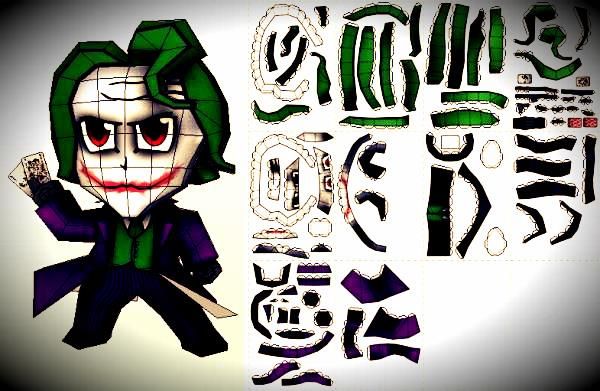 This very nice paper toy of The Joker in SD style (super deformed style), was created by French designer WarZoneFury, from Paperwar website.
You can choose between two versions: 20 cm tall and 25 cm tall.
To view and print this model you will need Pepakura Viewer Free Version (link at the end of this post).

Este paper toy bem legal do Coringa em estilo SD (estilo super deformado), foi criado pelo designer francês WarZoneFury, do site Paperwar.
Você pode escolher entre duas versões: com 20 cms ou com 25 cms de altura.
Para visualizar e imprimir este modelo você precisará do Pepakura Viewer Versão Gratuíta (link no final deste post).
Link to download the model:
The.Joker.Paper.Toy.In.Sd.Style.by.WarZoneFury
Link to Pepakura Viewer Free Version:
Pepakura.Viewer.Free.Version.Official.Page
More The Joker Paper Models related posts:
The Joker Paper Toy In Micas Style - by Vladimir Micas
The Joker Paper Toy - by Little Plastic Man
Batman - Arkham City - The Joker Paper Model - by Sabi 96
The Joker Custom Paper Toy - by Wackywelsh - via DeviantArt