You will find
a lot of paper models of
Realistic Aquatic Animals
in this
Japanese
website and
three easy-to-build little fish in toon style for kids
. -
Japan is surrounded by a large sea
, there are also
a lot of rivers and lakes
. There are a
variety of fish, octopus, crab, shrimp and squid.
Eating aquatic creatures
, we have been
living
and
using them
for various things. We make research to
protect these creatures
, to
increase aquatic population
, in order to
everyone
use at ease in the
Fisheries Research Center
. -
Fisheries Research Center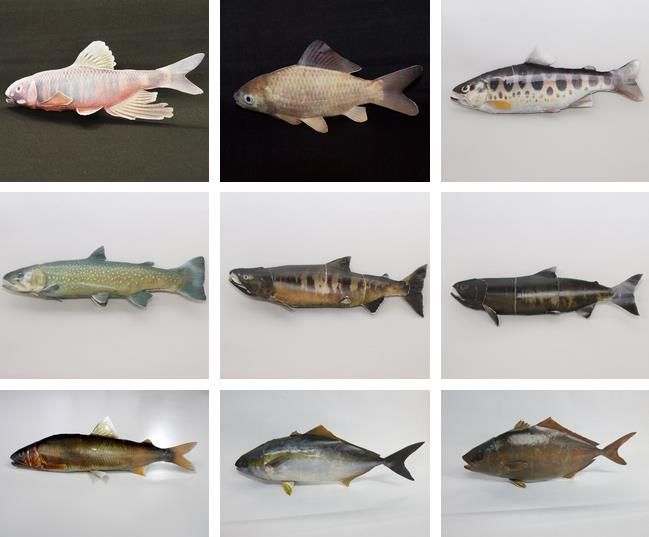 Você encontrará
um monte de
Animais Aquáticos em estilo realista
neste site
japonês
e também
três simpáticos peixinhos em estilo desenho animado, bem fáceis de montar para as crianças.
-
O Japão está cercado por um grande mar
, há também
muitos rios e lagos
. Há uma
variedade de peixes, polvos, caranguejos, camarões e lulas
. Comendo essas
criaturas aquáticas
, temos vivido.
Fazemos pesquisa para proteger essas criaturas
, para
aumentar a população aquática
, a fim de que todos possam pesquisar à vontade no
Centro de Investigação das Pesca do Japão
. -
Fisheries Research Center
Link:
Realistic.Aquatic.Animals.Paper.Models.by.Fisheries.Research.Center
More Paper Models of Aquatic Animals related posts:
Decorative Japanese Salmon Paper Models - by KG Craft World
Aquarium Diorama Paper Model For Kids - by Karabou Soft
Photorealistic Red Shrimp Paper Model - by Kozin Z
Arowana Fish Paper Model - by Epson Japan - Peixe Aruanã