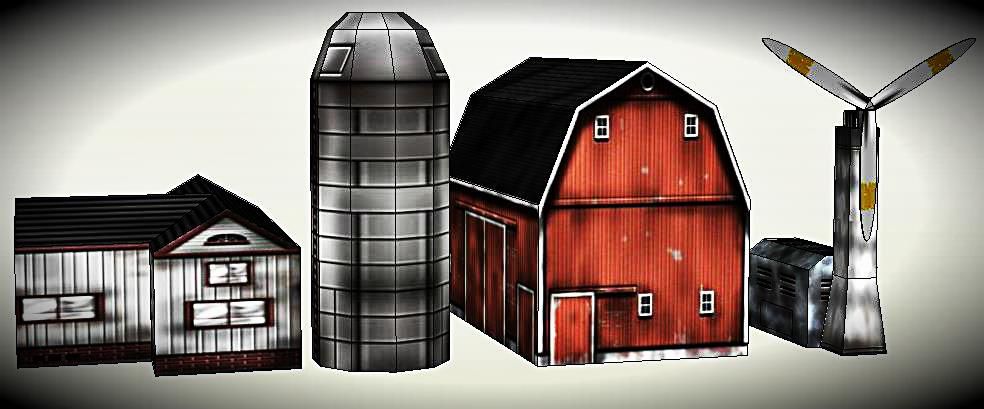 BlaaR
,
designer of this nice paper models
, says: -
"Nothing major
, some models to be used as
farm scenery
. I wanted to scale them
1/40
but
some faces were to big to fit on a A4 page
so instead
I scaled them 1/80
. The
PDO is unlocked
so
feel free to scale it
." -
To download this model
you need to register on
Zealot Forum
(
which is free
) and
actively participate in the forum
(
which is also free
). By p
articipating in the Forum
, in
addition to earning the right to download dozens of exclusive models
, you
will know hobbyists from around the world
, learn
tricks and tips
about
papercraft
and see that
this hobby is much more than just glue pieces of paper
. And when
I say it's free, it's free. No tricks, donations or whatever
.
I am member of Zealot Forum and recommend.
- To
view and print this model
you will need
Pepakura Viewer Free Version
(
link at the end of this post
).

BlaaR
, o
designer destes modelos de papel bem legais
, diz: - "
Nada de mais
, apenas alguns modelos para
cenários de fazenda
. Eu queria fazê-los na
escala 1/40
, mas
algumas partes ficaram muito grandes para o formato A4,
então eu os fiz em
1/80.
De qualquer forma,
os templates em formato PDO não têm senha
,
então fique à vontade para mexer na escala
.
Para baixar este modelo você precisa se cadastrar no Forum Zealot
(
o que é de graça
) e
participar ativamente do forum
(
que também é de graça
).
Participando do Forum
, além de
ganhar o direito de baixar dezenas de modelos exclusivos
, você irá
conhecer hobbistas do mundo todo,
aprenderá
macetes sobre papelmodelism
o e verá que
este hobby é muito mais que só colar pedaços de papel
.
E quando eu digo que é de graça, é de graça mesmo. Sem truques, doações ou coisas do tipo. eu sou um membro do Zealot e recomendo.
- Para
visualizar e imprimir este modelo
você precisará do
Pepakura Viewer Versão Gratuíta
(
link no final deste post
).
Link to download the model:
Farm.Scenery.Paper.Models.by.BLaaR.via.Zealot.Forum
Link to Pepakura Viewer Free Version:
Pepakura.Viewer.Free.Version.Official.Page
More Paper Models of Architecture and Buildings related posts:
Fusuma Japanese House - by Papermau - Download Now!
Rumah Gadang - Traditional Indonesian House Paper Model - by Paper Replika
Matsumoto Castle In Japan - by Paper Grade - Castelo Japonês
Toba Batak House - by Julius Perdana - Paper-Replika