My friend, German modeler Sven, built the Old Yellow House paper model and did a great job! This is the second original model that Mr. Sven built I'm very honored, really! As I always say, it's a pleasure to see the work of a friend modeler, is really rewarding! - Thanks, Sven, for this nice assembly and for the photos! Greetings from Brazil to Germany! - If you want to build your own Old Yellow House paper model, the link is below, at the end of this post.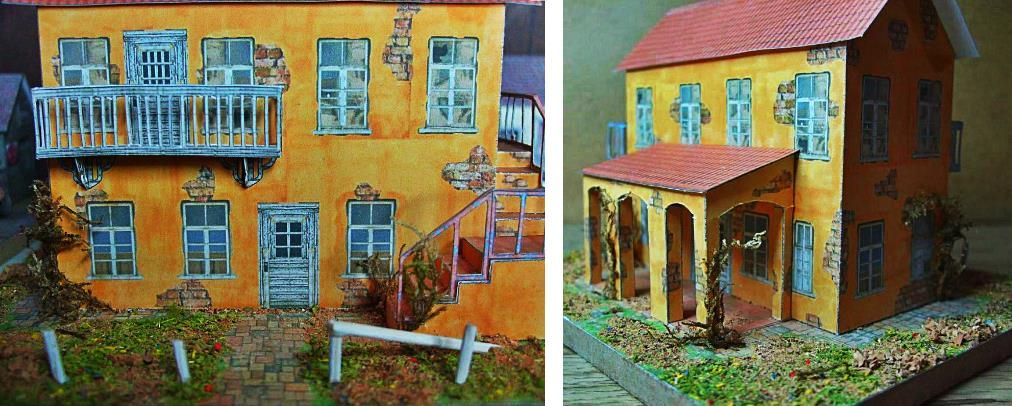 Meu amigo, o modelista alemão Sven, montou o modelo de papel da Velha Casa Amarela e fez um ótimo trabalho! Este é o segundo modelo original aqui do blog que Sven constroi e eu me sinto honrado, de verdade! É realmente recompensador ver um de meus modelos montado por um amigo modelista! - Obrigado, Sven, por esta bela montagem e pelas fotos! Saudações do Brasil até a Alemanha! - Se você quiser montar sua própria Velha Casa Amarela, o link para download está logo abaixo, no final deste post.
Link to download the model:
The Old Yellow House Paper Model by Papermau - Download Now!
Link to Sven`s original post:
The Old Yellow House Paper Model - Assembled by Sven - via Paper Modelers
More Papermau Models Assembled by Friends related posts:
Route 66 Abandoned Gas Station In HO Scale - Assembled by Trac - via Le Forum En Papier
Suburbia Paper Model Diorama - Assembled by Svanced
Castle Ruins Diorama - Assembled by Sam Wise
Brazilian Abandoned House - Assembled by Bosco