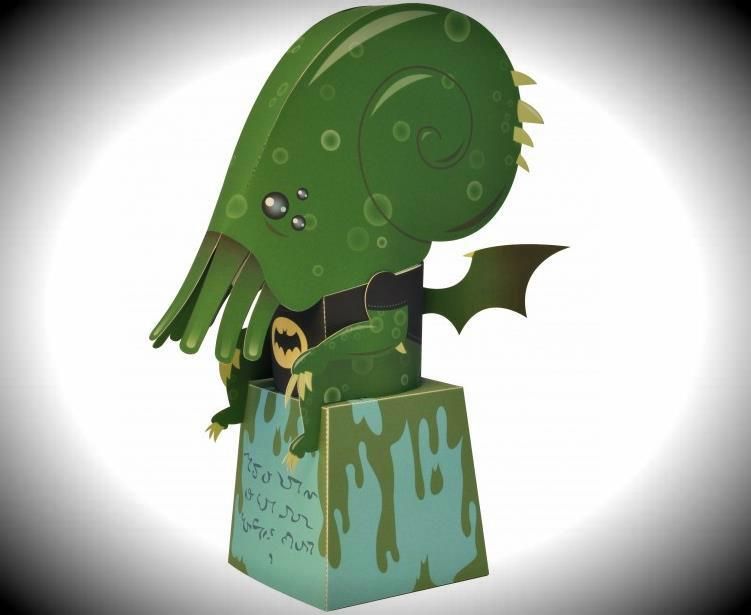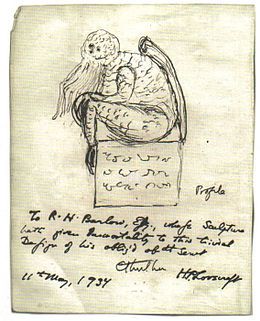 Sketch of Cthulhu by H. P. Lovecraft - 1934
This little Cthulhu paper toy was created by designer Phillip Fickling.
Cthulhu is a fictional cosmic entity that first appeared in the short story "The Call of Cthulhu", published in the pulp magazine Weird Tales in 1928. The character was created by writer H. P. Lovecraft.
Cthulhu is a Great Old Main Lovecraft Mythos. It is often cited by the history books, its gargantuan size, and the abject terror that it evokes. The entity is also used in circles of science fiction and fantasy as a synonym for extreme horror or evil.
Este pequeno paper toy do Cthulhu foi criado pelo designer Phillip Fickling.
Cthulhu é uma entidade cósmica invocada pelo escritor de terror H. P. Lovecraft em 1926. A primeira aparição da entidade foi no conto "The Call of Cthulhu", publicado na revista Weird Tales em 1928.
Cthulhu é um dos Grandes Antigos principais dos Mitos de Lovecraft. É frequentemente citado pelos livros de história, seu tamanho gigantesco e o terror abjeto que evoca. A entidade é usada também em círculos de ficção científica e fantasia como sinônimo de horror ou mal extremo.
Link:
The.Call.Of.Cthulhu.Monster.Paper.Toy.by.Phillip.Fickling
More Paper Models of Monsters related posts:
Zombie In A Barrel Papr Model - by Papermau - Download Now!
Halloween Special - Bobblehead Monsters Paper Models - by Frankenpaper
Werewolf Paper Toy - by UOL - Lobisomem De Papel
Halloween Special - Friendly Frankenstein Paper Toy - by Chemical 9