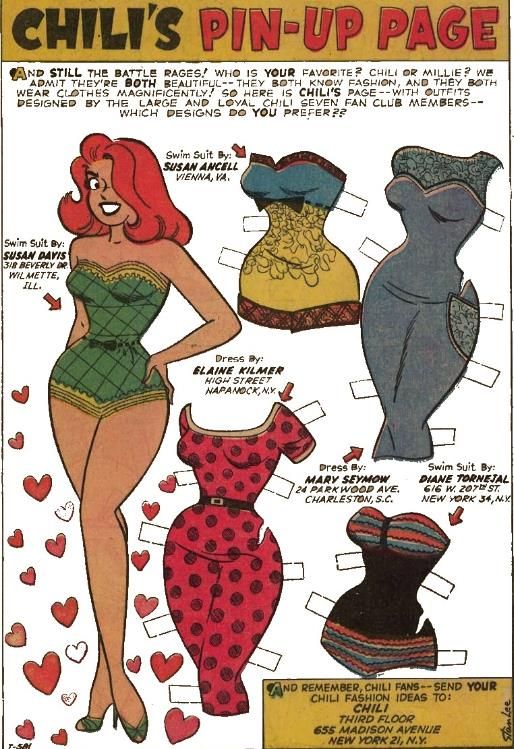 During World War II, GIs decorated their barracks with morale-boosting snapshots of dazzling pin-up girls. This beautiful Dress Up paper doll is part of a very popular papercraft series of that era. The girls sent letters to the editor, I believe they were published in a Sunday supplement of a newspaper. In these letters they sent ideas of clothing for your favorite dolls. the chosen were published, with the appropriate credits to the authors.
This model was designer by Stan Lee. If you don`t know, he co-created Spider-Man, the Hulk, the Fantastic Four, Iron Man, Thor, X-Men, and many other fictional characters, introducing complex, naturalistic characters and a thoroughly shared universe into superhero comic books. In addition, he headed the first major successful challenge to the industry's censorship organization, the Comics Code Authority, and forced it to reform its policies. Lee subsequently led the expansion of Marvel Comics from a small division of a publishing house to a large multimedia corporation.
I don`t remember where I take this model, I have this in my HD a very long time, so I hosted it at Google Docs for those who want to download.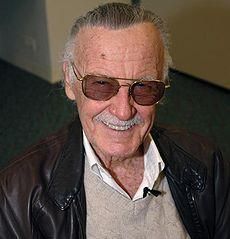 Stan Lee - The Man!
Durante a Segunda Grande Guerra, os fuzileiros norte-americanos decoravam suas barracas com fotos de deslumbrantes garotas em estilo Pin Up, para, como vamos dizer, levantar o moral. Esta bela boneca de papel em estilo Dress Up, faz parte de uma série muito popular em sua época. As garotas escreviam cartas ao editor do jornal que publicavam essa bonecas e nessa cartas enviavam idéias para novos vestidos e trajes, que seriam publicados aos domingos, com os devidos créditos às escolhidas. Esta boneca foi desenhada por Stan Lee, que para quem não sabe é o co-autor do Homem-Aranha, Hulk, Quarteto Fantástico, Homem de Ferro, Thor, X-Men, e muitos outros personagens de ficção, introduzindo, personagens de natureza complexa e um universo completamente compartilhado em histórias em quadrinhos de super-heróis. Além disso, ele foi o primeiro a desafiar a censura na indústria dos quadrinhos, o Comics Code Authority, e obrigou-a a reformar suas políticas. Lee, posteriormente, levou à expansão da Marvel Comics de uma pequena divisão de uma editora para uma grande corporação multimídia." Eu não lembro aonde peguei esse modelo. Já o tenho há muito tempo grvado em meu HD, então resolvi hospedá-lo no Goggle Docs, assim todos que quiserem podem baixá-lo facilmente.
Link:
Chili.Girl.Pin.Up.Dress.Up.Vintage.Paper.Doll.by.Stan.Lee
More Vintage Dress Up Paper Dolls related posts:
Gloria Fashions Vintage Dress Up paper Doll - by Maria
1951`s Betsy McCall Dress Up Paper Dolls - via Paper Doll Land
Restored Vintage Halloween Dress Up Paper Doll - by Papermau
1957`s Bertha Fashions Dress Up Paper Doll - by Bill Woggon - via The Paper Collector