By Japanese designer Naruhisa Kawase, from PG-Toy website, here are five nice paper toys in Chibi style of characters from Matsurihime mangá.
To view and print these models you will need Pepakura Viewer Free Version (link at the end of this post).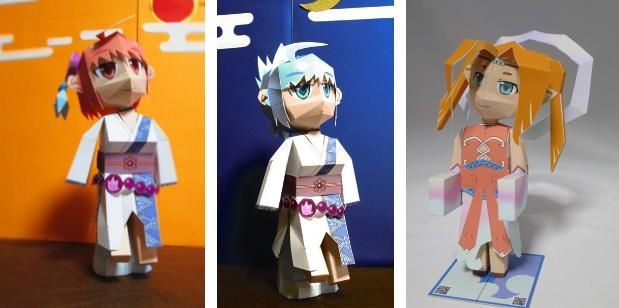 Do designer japonês Naruhisa Kawase, do site PG-Toy, aqui estão cinco paper toys bem legais em estilo Chibi de papersonagens do Mangá Matsurihime.
Para visualizar e imprimir estes modelos você precisará do Pepakura Viewer Versão Gratuíta (link no final deste post).
Link to download the models:
Matsurihime.Mangá.Paper.Dolls.In.Chibi.Style.by.Naruhisa.Kawase
Link to Pepakura Viewer Free Version:
Pepakura.Viewer.Free.Version.Official.Page
More Paper Models from Animes and Mangás related posts:
Chibi Madoka Magica Paper Dolls - by Tsunyandere
Hatsune Miku Paper Doll In Chibi Style - by Seisaku Diary
Kaenbyou Rin Paper Doll In Cubic Style - by Pontacerone
Two Girls & Panzer Anime Style Paper Dolls - by Rahamu - via Pepakura Gallery