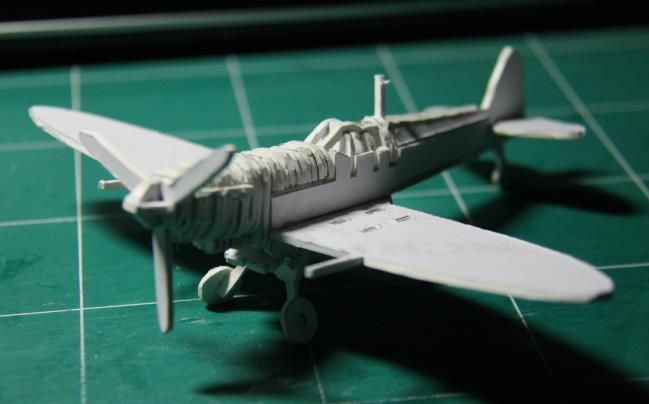 This ingenious puzzle of a Spitfire plane was created by French designer Seb21zr and posted at
Le Forum En Papier
,
a great French forum about paper models.
The Supermarine Spitfire is a British single-seat fighter aircraft that was used by the Royal Air Force and many other Allied countries during and after the Second World War. The Spitfire was built in many variants, using several wing configurations, and was produced in greater numbers than any other British aircraft. It was also the only British fighter to be in continuous production throughout the war. The Spitfire continues to be a popular aircraft, with approximately 50 Spitfires being airworthy, while many more are static exhibits in aviation museums all over the world.
-
Wikipedia
Este engenhoso quebra-cabeças de um avião Spitfire foi criado pelo designer francês Seb21zr e postado no
Le Forum En Papier
,
um ótimo forum de papelmodelismo francês.
O Supermarine Spitfire foi o avião de caça britânico mais famoso da Segunda Guerra Mundial e o único caça aliado que operou durante todo o conflito. O Spitfire foi construído em muitas variantes, usando várias configurações de asa, e foi produzido em maior número do que qualquer outra aeronave britânica. Foi também o único caça britânico usado durante toda a guerra. O Spitfire continua a ser uma aeronave popular, com cerca de 50 deles ainda voando, enquanto muitos outros estão epostos em museus de aviação em todo o mundo.
-
Wikipedia
Link:
WW2`s.Supermarine.Spitfire.Puzzle.Paper.Model.by.Seb21zr
More Puzzles Paper Models related posts:
Chinese Dice Puzzle Paper Model - by Mak - via Paper Modelers
Pterodactyl Cardboard Puzzle With Templates - by DIYHacksAndHowTos - via Instructables
Halloween Special - Sliding Puzzle Papercraft - by Canon - Quebra-Cabeças Deslizante
3D Colorful Maze Papercraft - by Canon - Labirinto 3D