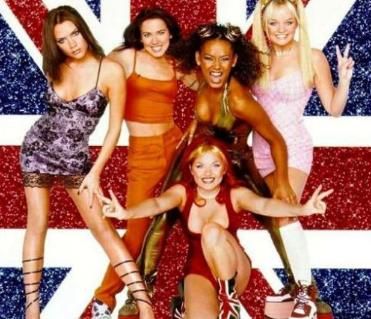 By Brazilian designer Vic Matos, From Rabisco Pop MTV website, here are the Spice Girls in cool paper toy versions.
The Spice Girls were a British pop girl group formed in 1994. The group consisted of five members, who each later adopted nicknames initially ascribed to them: Melanie Brown ("Scary Spice"), Melanie Chisholm ("Sporty Spice"), Emma Bunton ("Baby Spice"), Geri Halliwell ("Ginger Spice"), and Victoria Beckham, née Adams ("Posh Spice"). They were signed to Virgin Records and released their debut single, "Wannabe", in 1996, which hit number one in more than 30 countries and helped establish the group as a global phenomenon. Credited for being the pioneers that paved the way for the commercial breakthrough of teen pop in the late 1990s, their debut album, Spice, sold more than 28 million copies worldwide, becoming the best-selling album by a female group in music history. They have sold over 80 million records worldwide, making them the best-selling female group of all time, one of the best-selling pop groups of all time, and the biggest British pop phenomenon since Beatlemania.
-
Wikipedia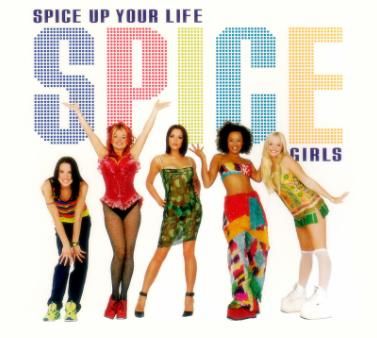 Do designer brasileiro Vic Matos, do site Rabisco Pop MTV, aqui estão as Spice Girls, em divertidas versões paper toy.
As Spice Girls foram um grupo feminino de música pop britânico criado originalmente em 1993 com o nome Touch e dois anos depois com o nome definitivo. Formada por Emma Bunton, Geri Halliwell, Melanie B, Melanie C e Victoria Beckham, o grupo tornou-se conhecido em 1996 com o primeiro single, "Wannabe". O single estourou em 1º lugar em mais de 30 países, fazendo as garotas tornarem-se um "fenômeno global". Creditadas por serem as pioneiras que pavimentaram o caminho para o sucesso comercial do pop adolescente na década de 1990, o grupo vendeu cerca de 901 milhões de discos, tornando-se o grupo feminino mais famoso e bem-sucedido mundialmente de todos os tempos, além de tornarem-se o grupo com maior venda de discos de todos os tempos. Em toda a carreira, o grupo lançou 4 álbuns. De acordo com a Virgin Records, 2008, o álbum de estreia do grupo, Spice, vendeu 361 milhões de cópias, tornando o álbum mais vendido de todos os tempos por um grupo de garotas; o 2º álbum Spiceworld vendeu 24 milhões, o terceiro Forever vendeu 10 milhões e o último álbum/coletânea Greatest Hits vendeu 20 milhões. Em 2001, o grupo dissolveu-se, seguindo, cada integrante, sua própria carreira músical distinta.
-
Wikipedia
Posh Spice Paper Toy:
Spice.Girls.Paper.Toys.by.Vic.Matos.Rabisco.Pop.MTV.Posh.Spice
Ginger Spice Paper Toy:
Spice.Girls.Paper.Toys.by.Vic.Matos.Rabisco.Pop.MTV.Ginger.Spice
Scary Spice Paper Toy:
Spice.Girls.Paper.Toys.by.Vic.Matos.Rabisco.Pop.MTV.Scary.Spice
Sporty Spice Paper Toy:
Spice.Girls.Paper.Toys.by.Vic.Matos.Rabisco.Pop.MTV.Sporty.Spice
Baby Spice Paper Toy:
Spice.Girls.Paper.Toys.by.Vic.Matos.Rabisco.Pop.MTV.Baby.Spice
More Pop Culture Paper Models related posts:
VMA 1997`s Spice Girls Paper Dolls - by Popwee Paper Toys
Gangnam Style Machine Automata Papercraft - by Kamibox
Katy Perry - Unconditionally Paper Toy - by Rabisco Pop
Michael Jackson Paper Models - by Cherry Plus