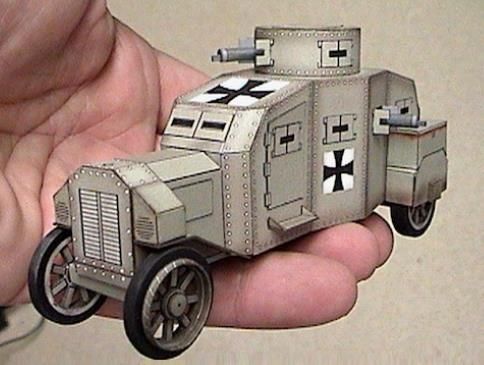 This very well done paper model in 1/43 scale of the WWI`s Ehrhardt E-V/4 Armoured Car was created by North American designer Don Weeks and shared via Landships website.
The Ehrhardt E-V/4 was first produced as a prototype in 1915, a further 20 vehicles were built in 1917 and served mostly on the Eastern Front. Although the Ehrhardt was limited as an armoured car because of its height and weight it was found to be a very effective crowd control vehicle and a further 20 were built in 1919. These served in policing roles until the 1930s.
To download this model, look for "Don Weeks" in the left column on the download page.
Este modelo de papel muito bem feito em escala 1/43 do Véiculo Blindado Ehrhardt E-V/4 foi criado pelo designer norte-americano Don Weeks e compartilhado no site Landships.
O Ehrhardt EV /4 foi produzido pela primeira vez como protótipo em 1915, mais de 20 veículos foram construídos em 1917 e serviu principalmente na Frente Oriental. Embora se7u uso fosse limitado como um carro blindado por causa de sua altura e peso, foi muito eficaz para controle de multidão e mais 20 foram construídos em 1919. Estes serviram como carros-patrulha na alemanha até os anos 1930.
Para baixar este modelo, procure por "Don Weeks" na coluna da esquerda da página de download.
Link:
WWI`s.Ehrhardt.E-V/4.Armoured.Car.Paper.Model.by.Don.Weeks.via.Landships
More WWI Military Paper Models related posts:
The Kaiser Bussing Paper Model - by Vladcorail - via DeviantArt
British Tank Vickers Mk II In 1/72 and 1/48 Scales - by Alberto Perilli / Landships
1915 Giant Russian War Tank Prototype - by Homespunmagixx
WWI Mendelejev Tank - by Gerald Marschall - Tanque da Primeira Guerra