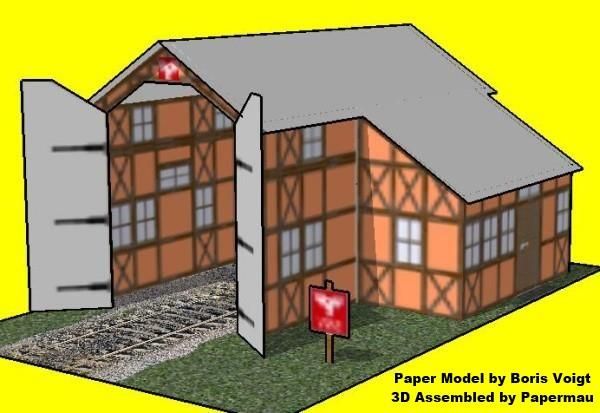 German designer Boris, from Projekt Bastelbogen website shares with us more one great model. This is the Engine Shed paper model In 1/72 scale that is perfect for Dioramas, RPG, Wargames and Train Sets.

O designer alemão Boris, do site Projekt Bastelbogen, oferece um novo modelo bem legal. Este é o Galpão de Máquinas em escala 1/72, perfeito para Dioramas, RPG e Wargames e Maquetes Ferroviárias.
Link:
Engine.Shed.Paper.Model.In.1/72.Scale.by.Projekt.Bastelbogen
More Paper Models in 1/72 Scale related posts:
WW2 Houses In 1/72 Scale - by Paper Tiger Armaments
StarGate Continuum Time Machine In 1/72 Scale - by Wan Rayen Models
Ruined Church - 1/72 Scale - by John McEwan - Igreja Em Ruínas
Easy-To-Build Military Vehicles - by Papermau - Download Now!