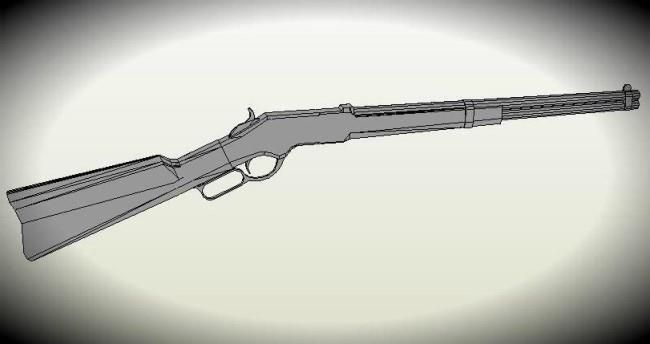 This is the 1860`s Winchester Rifle in a nice paper model version created by designer Alexander Rahirant and originally posted at Pepakura Gallery Japanese website.
Nice for Cosplayers or to decorate your wall.
To view and print this model you will need Pepakura Viewer Free Version (link at the end of this post).
Winchester rifle is usually used to refer to the lever-action rifles manufactured by the Winchester Repeating Arms Company, though the company has also manufactured many rifles of other action types. Winchester rifles were among the earliest repeating rifles; the Winchester repeater was incredibly popular and is colloquially known as "The Gun that Won the West" for its predominant role in the hands of Western settlers. - Wikipedia
The Real Thing.
Este é o Rifle Winchester de 1860 em uma versão em papel bem bacana criada pelo designer Alexander Rahirant e originalmente postado no site japonês Pepakura Gallery. Um modelo bem legal para Cosplayers ou para decorar sua parede.
Para visualizar e imprimir este modelo você precisará do Pepakura Viewer Versão Gratuíta (link no final deste post).
O rifle Winchester 44 é um arma de repetição fabricada pelo Winchester Repeating Arms Company, em Connecticut, e comumente foi usada nos Estados Unidos durante a última metade do Século XIX. O rifle é popularmente chamado de "a arma que conquistou o Oeste" por sua imensa popularidade naquela época, assim como seu uso no imaginário Ocidental. O rifle original de Winchester 44, era famoso para sua forma austera e mecanismo de acionamento por alavanca que permitia ao carabineiro produzir um certo número de tiros antes de recarregar: daí o termo, "rifle de repetição". O primeiro destes rifles, o Modelo 1866, foi apelidado "Yellow Boy" (Rapaz Amarelo) por causa de seu receptor de latão. - Wikipedia

Link to download the model:
1860`s.Winchester.Rifle.Paper.Model.by.Alexander.Rahirant
Link to Pepakura Viewer Free Version:
Pepakura.Viewer.Free.Version.Official.Page
More Paper Models of Weapons related posts:
Panzerfaust 60 1/1 Scale - by RocketmanTan - Bazuca Anti-Tanques Alemã
Uzi Pistol Paper Model In 1 /1 Scale - by Bamboogila
Semi-Automatic Rifle AR-15 Paper Model - by Hoborginc - Fuzil AR-15
AK-47 Assault Rifle Paper Model - by Hoborginc - via DeviantArt