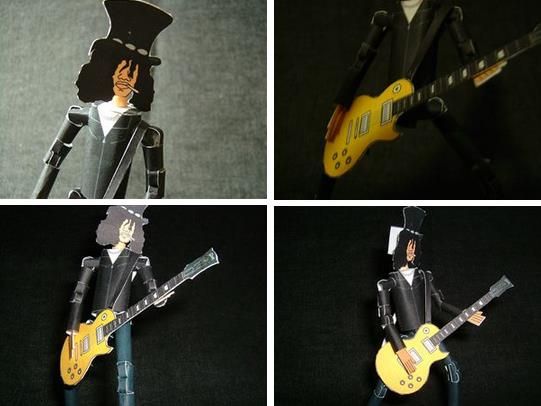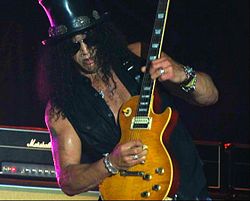 Saul Hudson (born July 23, 1965), better known by his stage name Slash, is a British-American musician and songwriter. He is best known as the former lead guitarist of the American hard rock band Guns N' Roses, with whom he achieved worldwide success in the late 1980s and early 1990s. During his later years with Guns N' Roses, Slash formed the side project Slash's Snakepit. He then co-founded the supergroup Velvet Revolver, which re-established him as a mainstream performer in the mid to late 2000s. Slash has since released two solo albums, Slash (2010), featuring an all-star roster of guest musicians, and Apocalyptic Love (2012), recorded with singer/guitarist Myles Kennedy, along with rhythm section Brent Fitz and Todd Kerns, known on the album as The Conspirators.Slash has received critical acclaim as a guitarist. Time named him runner-up on their list of "The 10 Best Electric Guitar Players" in 2009, while Rolling Stone placed him at No. 65 on their list of "The 100 Greatest Guitarists of All Time" in 2011. Guitar World ranked his solo in "November Rain" No. 6 on their list of "The 100 Greatest Guitar Solos" in 2008, and Total Guitar placed his riff in "Sweet Child o' Mine" at No. 1 on their list of "The 100 Greatest Riffs" in 2004. In 2012, he was inducted into the Rock and Roll Hall of Fame, along with other members of Guns N' Roses.
-
Wikipedia
Saul Hudson (Londres, 23 de julho de 1965), conhecido pelo seu nome artístico Slash, é um guitarrista britânico-americano mundialmente famoso como membro original da banda de hard rock Guns N' Roses, com quem alcançou sucesso mundial no final da década de 1980 e início dos anos 90. Em sua carreira posterior, Slash integrou algumas outras bandas de diversos estilos, bem sucedidas em sua maioria, e em 2010 iniciou uma carreira solo lançando dois discos e estando atualmente em sua segunda turnê mundial. Slash completou a formação original do Guns N' Roses em 1986 e, no ano seguinte, o grupo lançou seu primeiro disco, Appetite for Destruction, que não teve nenhum grande impacto inicial, mas acabou ganhando grande popularidade com o tempo, transformando-se em um sucesso de vendas e consolidando a carreira do grupo. Em 1991, o conjunto lança seu novo disco dividido em duas partes, Use Your Illusion I e Use Your Illusion II, e apesar dos álbuns terem atingido grande sucesso, o relacionamento de Slash com o vocalista, Axl Rose, se deteriorou com o passar dos anos e o guitarrista deixou o grupo em 1996. Nos anos seguintes, Slash trabalhou com seu projeto independente, Slash's Snakepit, mas os problemas com drogas do músico e a péssima conduta dos demais integrantes levaram ao fim do grupo em 2001. Slash formou uma nova banda em 2004, Velvet Revolver, e apesar do sucesso alcançado, a saída do vocalista Scott Weiland encerrou a carreira do grupo. Em 2010, Slash assinou contrato para um carreira sob seu próprio nome e lançou seu primeiro disco, Slash, produzido ao lado de vários músicos, e acompanhado por uma banda de apoio o guitarrista realizou uma turnê mundial entre 2010 e 2011. Em 2012, o músico lançou seu novo disco, Apocalyptic Love, e iniciou uma nova turnê ainda sem data de encerramento prevista. Slash tem recebido elogios da crítica como um guitarrista desde o início de sua carreira, recebendo diversos prêmios e homenagens até hoje. A revista Time nomeou-o vice-campeão em sua lista de "Os 10 Melhores Guitarristas ​​em 2009, enquanto a Rolling Stone o colocou em sexagésimo quinto lugar em sua lista de "Os 100 Maiores Guitarristas de Todos os Tempos" em 2011. Também, a Guitar World classificou seu solo em "November Rain" em sexto lugar na sua lista de "Os 100 Melhores Riffs de Guitarra" em 2008, e a Total Guitar colocou seu riff de "Sweet Child o' Mine" em primeiro lugar na sua lista de "100 Maiores Riffs" em 2004. Em julho de 2012, Slash recebeu uma estrela na Calçada da Fama de Hollywood, em Los Angeles, onde o músico cresceu.
-
Wikipedia
Link:
Rock.n.Roll.Circus.Slash.Paper.Toy.by.Glue.2.Chronicle
More Rock`n`Roll Circus related posts:
Rock`n`Roll Circus - Kiss - Gene Simmons Paper Toy - by Papermau Download Now!
Rock`n`Roll Circus - Rudee Ramones Paper Toy - by Salazad
Rock`n`Roll Circus - Henry Rollins - by KNGL - via Paper Toy France
Rock`n`Roll Circus - The Beatles Kombi - Early Years - by Papermau