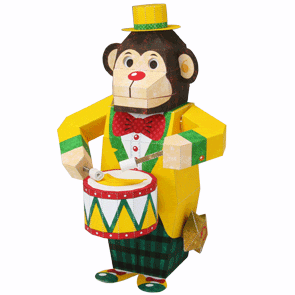 This papercraft is a moving toy monkey that hits a drum. When you turn the handle, not only does the monkey hit the drum, but it also opens and closes its mouth and changes the expression in its eyes. This fun toy full of tricks can be enjoyed by both kids and adults.
A great work by Japanese designers Haruki Nakamura & Kamikara comissioned by Canon website.
Este papercraft representa um macaco de brinquedo que toca um tambor. Quando você gira a manivela, o macaco não apenas toca o tambor como també abre e fecha a boca e muda a expressão dos olhos. Este divertido paper toy cheio de movimento vai encantar as crianças e os adultos. Um belíssimo trabalho dos designers japoneses Haruki Nakamura & Kamikara para o site da Canon.
Link:
The.Monkey.Drummer.Automata.Paper.Model.by.Canon
More Automata Paper Models related posts:
Walking Mech Warrior Paper Model Automata - by J.Hodgie
Animated Tyrannosaurus Rex - by Kids Net - Tiranossauro
Halloween Special - Jack And The Halloween Dancers - by Canon
Da Vinci`s Mechanical Hammer - by Paper Pino - Martelo de Da Vinci