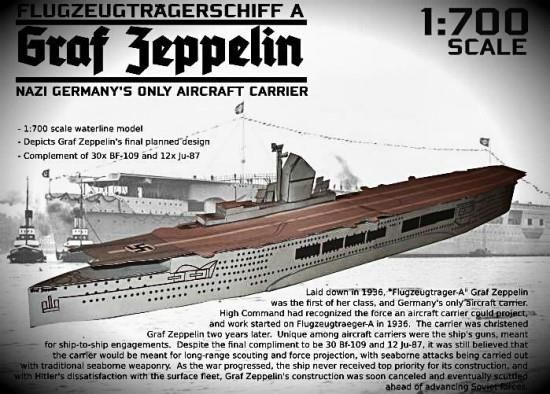 This very well done paper model in 1/700 scale was created by North American designer RocketmanTan and was originally posted at DeviantArt website.
German aircraft carrier Graf Zeppelin was the lead ship in a class of two carriers ordered by the Kriegsmarine. She was the only aircraft carrier launched by Germany during World War II and represented part of the Kriegsmarine's attempt to create a well-balanced oceangoing fleet, capable of projecting German naval power far beyond the narrow confines of the Baltic and North Seas. The carrier would have had a complement of 42 fighters and dive bombers. Construction on Graf Zeppelin began on 28 December 1936, when her keel was laid down at the Deutsche Werke shipyard in Kiel. Named in honor of Graf (Count) Ferdinand von Zeppelin, the ship was launched on 8 December 1938, and was 85% complete by the outbreak of World War II in September 1939. Graf Zeppelin was not completed and was never operational, due to shifting construction priorities necessitated by the war.
She remained in the Baltic for the duration of the war; with Germany's defeat imminent, the ship's custodian crew scuttled her just outside of Stettin in March 1945. The Soviet Union raised the ship in March 1946, and she was ultimately sunk in weapons tests north of Poland. The wreck was discovered by a Polish survey ship in July 2006.
-
read more at
German.Aircraft.Carrier.Graf.Zeppelin.Wikipedia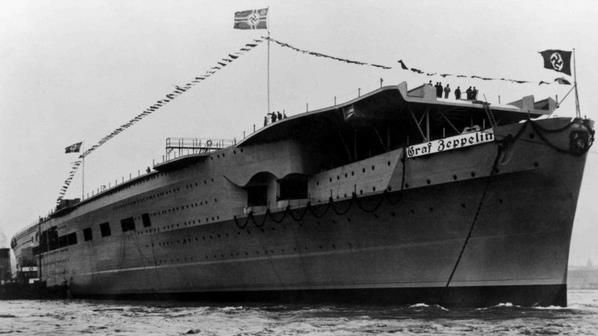 Este modelo de papel muito bem feito em escala 1/700 foi criado pelo designer norte-americano RocketmanTan e foi origianlmente postado no site DeviantArt.
Graf Zeppelin foi um porta-aviões alemão que operaria durante a Segunda Guerra Mundial. Foi o primeiro e não concluído sonho da Kriegsmarine de ter esse tipo de navio em combate. O navio recebeu esse nome em homenagem ao conde Ferdinand von Zeppelin, pai dos enormes dirigíveis alemães.Em 1935, Hitler anunciou que a Alemanha iria construir porta-aviões para reforçar a Kriegsmarine. Essa decisão era para fazer frente a marinha britânica, que tinha vários porta-aviões em operação antes do início da guerra em setembro de 1939.
-
saiba mais em
Porta.aviões.Graf.Zeppelin.Wikipedia
Link:
Nazi.Aircraft.Carrier.Graf.Zeppelin.Paper.Model.by.RocketmanTan
More Paper Models of WW2 Boats and Ships related posts:
WW2`s Clemson Class Destroyers And Repair Ship Akashi - by MegaMoonLiner
WW2 Czech Ship President Masaryk - by Rawen
WW2 Heavy Cruiser Chokai - by Masayui - Navio Cruzador Japonês
WW2 German Battleship Bismarck - by Zio Prudenzio