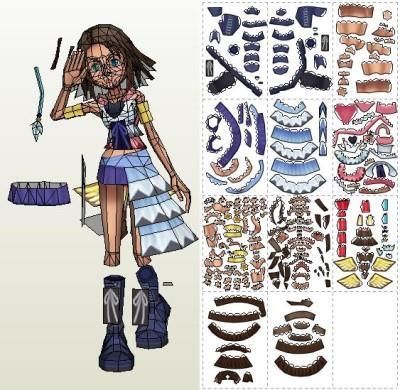 This really beautiful paper doll of Yuna, character from Kingdom Hearts 2 videogame, was createb by designer Wulingyi, from Pepabysmal website.
If you intend to build this model, you can use the PDO file (Pepakura) to know where each piece goes.
You will find the link to download Pepakura Viewer Free Version program at the end of this post.
Esta bela boneca de papel de Yuna, personagem do game Kingdom Hearts 2, foi criada pelo designer Wulingyi, do site Pepabysmal.
Se você decidir montar este modelo poderá usar o arquivo em formato PDO (Pepakura) como guia para saber aonde vai cada peça.
No final deste post você encontrará o link para baixar a versão gratuíta do Pepakura Viewer.
Link to download the model:
Kingdom.Hearts.2.Yuna.Paper.Doll.by.Pepabysmal
Link to Pepakura Viewer Free Version:
Pepakura.Viewer.Free.Version.Official.Page
More Paper Models of Videogame Characters related posts:
Yokattara Paper Doll - by Rokunoya - PSP Videogame Doll
Assassin`s Creed - Altair Paper Model - by Noturno Sukhoi
Nintendo`s Legend Of Zelda Papercrafts - by Paper Zelda
Little Monsters from Mostruo Nintendo Game- by Ushimitsu