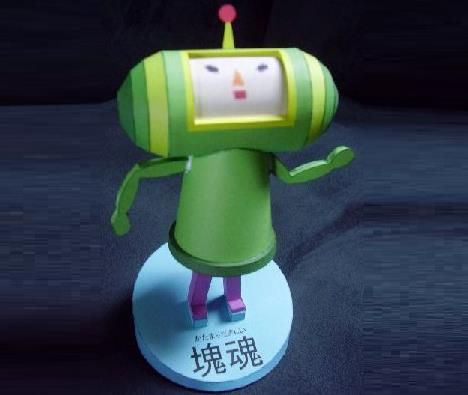 Katamari Damacy Art Cover
This beautiful paper model of Katamari Damacy was created by Japanese designer Ned Reif and was originally posted at Pepakura Gallery website.
Katamari Damacy is a third-person puzzle-action video game that is developed and published by Namco for the PlayStation 2 video game console. It was first released in Japan, and then later in South Korea and North America. The game resulted from a school project from the Namco Digital Hollywood Game Laboratory, and was developed for less than $1 million. In designing Katamari Damacy, the development team aimed to maintain four key points: novelty, ease of understanding, enjoyment, and humor. The game's plot concerns a diminutive prince on a mission to rebuild the stars, constellations, and Moon, which were accidentally destroyed by his father, the King of All Cosmos. This is achieved by rolling a magical, highly adhesive ball called a katamari around various locations, collecting increasingly larger objects, ranging from thumbtacks to people to mountains, until the ball has grown great enough to become a star. Katamari Damacy's story, characters, and settings are bizarre and heavily stylized, rarely attempting any resemblance of realism, though the brands and items used are based on those current in Japan during the game's production. - Wikipedia
-
To view and print this model you will need Pepakura Viewer Free Version (link at the end of this post).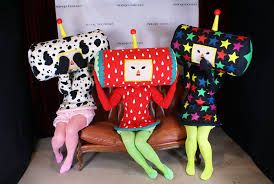 Katamary Damacy Cosplayers
Este simpático modelo de papel do Katamari Damacy foi criado pelo designer japonês Ned Reif e foi originalmente postado no site Pepakura Gallery.
Katamari Damacy é um jogo de PlayStation 2, desenvolvido pela Namco e lançado primeiramente no Japão no dia 18 de Março de 2004, logo após na Coréia do Sul no dia 12 de Agosto de 2004 e nos Estados Unidos no dia 2 de Setembro de 2004. O jogo concentra-se em um pequeno príncipe que tem a missão de reconstruir estrelas, constelações e luas, de seu pai, o Rei dos Cosmos (King of all Cosmos), que foi totalmente destruída. A jogabilidade é simples, o jogador controla o pequeno príncipe enquanto ele rola a Katamari. O jogador pode reconstruir isto girando uma bola mágica e muito adesiva, chamada Katamari em vários locais, coletando alguns objetos, subindo lombas, materiais escolares etc. A bola cresce quando o jogador pega tais itens, e dependendo do tamanho ela poderá se transformar em estrela ou constelação. Em algumas fases do jogo, o jogador precisa fazer a bola com 15m, 25m, 45m. O jogador pode também andar sobre a água para procurar itens. - Wikipedia
-
Para visualizar e imprimir este modelo você precisará do Pepakura Viewer Versão Gratuíta (link no final deste post).
Link to download the model:
Katamari.Damacy.Paper.Toy.by.Ned.Reif.via.Pepakura.Gallery
Link to Pepakura Viewer Free Version:
Pepakura.Viewer.Free.Version.Official.Page
More Paper Models from Videogames related posts:
Cut The Rope - Om Nom Paper Toy - by Tosan Aji Prakoso
Plants Vs Zombies - Peashooter Paper Toy - by Black Canvas
Portal 2 - P-Body Robot Paper Model - by Digitprop
3D 8-Bit Mario Papercraft - by Squeezycheesecake - via Ultimate Papercraft