This is the Moon Mixer Paper Model, a really cool creation of North American designer Dave Winfield, based on a Revel`s plastic model.
Dave Winfield is the guy who can transpose a model of plastic and metal to paper and keep all lines and all the style of the original model. If you like Hot Wheels and Matchbox miniatures, pay a visit to his page and you will not be sorry.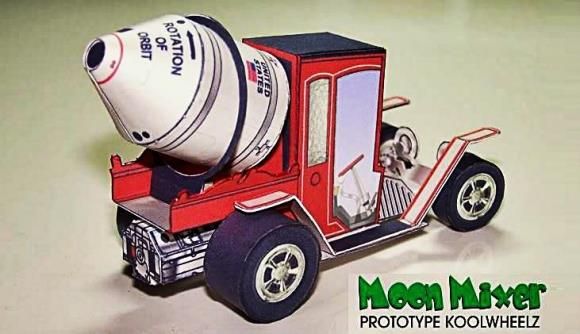 Este é o modelo de papel do Moon Mixer, uma criação do designer norte-americano Dave winfield, baseado em um modelo plástico da Revel.
Dave Winfield é o cara que consegue transpor um modelo de plástico ou metal para o papel e mesmo assim manter todas as linhas e estilo do modelo original. Se você aprecia miniaturas de Hot Wheels e Matchbox, faça uma visita ao site do Dave e você não vai se arrepender.
Link:
Kool.Wheels.Moon.Mixer.Paper.Model.by.Dave.Winfield
More Paper Models of Cars and Vehicles related posts:
BMW Z4 M Coupe Paper Car - by Farewell The End
Cadillac Coupe De Ville 1966- by Jimdo
Ford Cortina/Taunus and Service Station
Matchbox Original Boxes - by Carlos Ribeiro