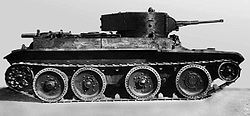 The Real Thing
This really beautiful paper model of the Russian Tank BT-5 was created by Japanese designer The Cho, from Cardmodel Blog 54 website.
-
The BT tanks (Russian: Быстроходный танк (БТ), Bystrokhodny tank, lit. "fast moving tank" or "high-speed tank"[1]) were a series of Soviet cavalry tanks produced in large numbers between 1932 and 1941. They were lightly armoured, but reasonably well-armed for their time, and had the best mobility of all contemporary tanks of the world. The BT tanks were known by the nickname Betka from the acronym, or its diminutive Betushka.
-
Wikipedia
Este belo modelo de papel do Tanque Russo BT-5 foi criado pelo designer japonês The Cho, do site Cardmodel Blog 54.
-
Os tanques BT ou "tanques em movimento rápido" eram tanques de ataque soviéticos produzidos em grandes números entre 1932 e 1941. Eles eram levemente blindados, mas muito bem armados para sua época e tinham a melhor mobilidade de todos os tanques existentes.
-
Wikipedia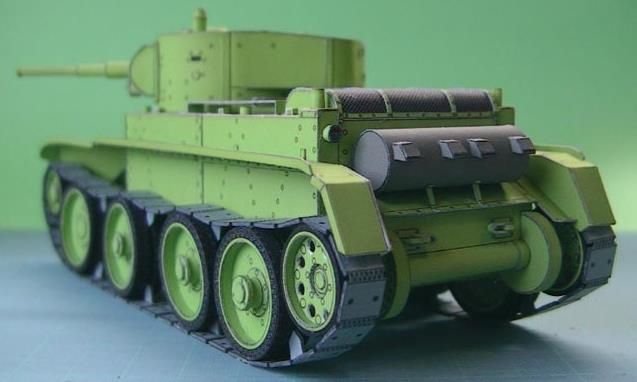 To download the templates look for this part below at Cardmodel Blog 54 webpage:
Para baixar os templates procure por esta parte abaixo na página do Cardmodel Blog 54:

Link:
WW2`s.Russian.Tank.BT-5.Paper.Model.by.Cardmodel.Blog.54
More Paper Models of Tanks related posts:
The Weekend Pic - Jagdpanther Tank Paper Model - by Maxe / Rawen
WW2`s Tank M3A Honey Paper Model In 1/48 Scale - by Konradus
Renault FT 17 Paper Model- The World's First Modern Tank - by PeaGrafis - via Le Forum En Papier
WW2`s Sovietic Tank T 34/85 In 1/100 Scale - by Rawen