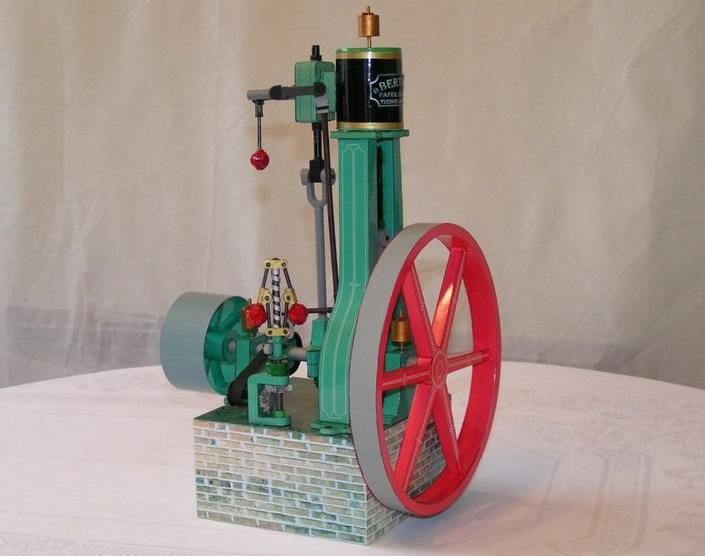 This all Paper Steam Engine model was designed by Ed Bertschy using cad drawings of a completely restored Riches & Watts Nominal 2 1/2 hp A-Frame double acting simple slide-valve steam engine, circa 1870-75. The engine it was based upon was salvaged and restored by a Mr Richard Adamek. The models scale is roughly 1:19. There are 13 pages of assembly Instructions with a further 29 pages of assembly Illustrations.
I want to thank Mr. John Wagenseil for this nice find!
Este modelo de papel funcional de um motor a vapor foi desenhado por Ed Bertschy usando o program CAD inspirado em um motor real restaurado, o Riches & Watts, fabricado por volta de 1870-1875. O motor original foi recuperado e restaurado pelo Sr. Richard Adamek. A escala deste modelo é de aproximadamente 1/19. Eu gostaria de agradecer ao Sr. John Wagenseil por este belo achado.
Link:
Steam.Engine.Paper.Model.In.1/19.Scale.by.Ed.Bertschy
More Unusual Paper Models of related posts:
Multiplication Machine Paper Model - by Digitprop
Medieval Trebuchet In 1/25 Scale - by Sheila`s Paper Models - Catapulta Medieval
Ancient Japanese Dogu - Ancient Alien Paper Craft - by Paper Replika
It Is Not Paper, But... - Make A Miniature Working Light House - by Lesley Shepherd