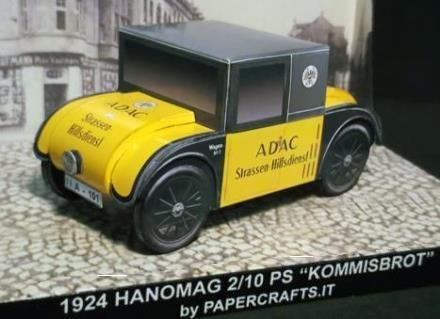 The Hanomag 2/10 PS was a little car produced by Hanomag from 1924 to 1928. The 2/10 PS (two hp taxable/ten hp power) had a single cylinder/500 cc engine rear mounted. The rounded line of this car earned it the nickname "Kommissbrot" how the bread used by the military. Scale model 1/35." - Papercrafts.It
-
Hanomag (Hannoversche Maschinenbau AG) was a German producer of steam locomotives, tractors, trucks and military vehicles in Hanover.
"O Hanomag 2/10 Ps era um pequeno carro produzido pela Hanomag entre os anos de 1924 e 1928. O 2/10 PS era movido um motor traseiro de 500 cilindros. Suas linhas arredondadas lhe deram o apelido de "Kommissbrot", um pão muito consumido pelos militares da época, pois suas formas lembravam esse pão. modelo na escala 1/35." - Papercrafts.It
-
Hanomag (Hannoversche Maschinenbau AG) era uma montadora de locomotivas à vapor, tratores, caminhões e veículos militares, situada em Hanover, na Alemanha.
Link:
Hanomag.Kommissbrot.Paper.Model.by.Papercrafts.It
More Paper Models of Cars and Vehicles related posts:
Panhard Et Levassor 1894 Vintage Paper Car - by Denis - via Le Forum En Papier
Six Vintage Paper Cars - by Kaukapedia - Seis Carros Antigos
Trabant - Old East German Paper Car - by Trabant.Ca
Traditional London Bus - by Stagecoach Fan - Ônibus Londrino