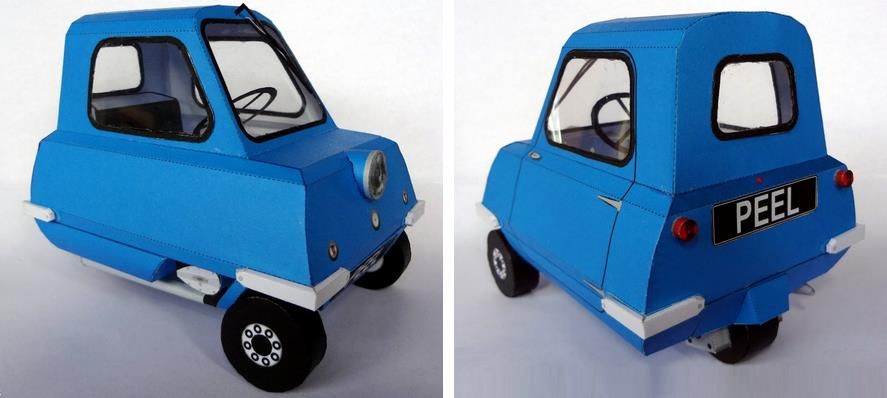 The Real Thing
A cool and very original paper model car created by designer Bayu Kuncoro Mukti, from Paper Hol.Es website.
The Peel P50 is a three-wheeled microcar originally manufactured from 1962 to 1965 by the Peel Engineering Company on the Isle of Man. It currently holds the record for the smallest automobile to go into production. It has no reverse gear, but a handle at the rear allows the very lightweight car to be physically maneuvered when required.
Um modelo de papel bem original do designer indonésio Bayu Kuncoro Mukti, do site Paper Hol.Es.
O Peel P50 foi um microcarro produzido em Ilha de Man pela empresa britânica Peel Engineering Co. de 1962 a 1965, aproximadamente 50 modelos. É conhecido por ser o menor carro na história, com 1,34 m de comprimento.1 Foi vendido como um meio de transporte para "uma pessoa e um saco de compras.
Link:
British.Micro.Car.Peel.P50.Paper.Model.by.Bayu.Kuncoro.Mukti
More Paper Models of British Vehicles related posts:
Super 7 Roadster British Car - by Shift-Down - Carro Inglês
Spice Fiero Paper Car - by Best Paper Models.Com
Jaguar E-Type Paper Car - by Canon
Lomax Britsh Paper Car - by Faehnrichweb.De