Model Assembled and Photo by Changzer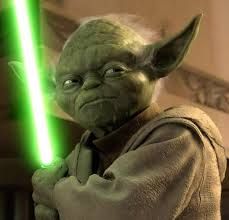 The "Real" Thing
From Star Wars universe, here is the Gran Master Yoda, in a nice Cartoon style, created by Japanese designer Piromodel.
Yoda is a character in the Star Wars universe, first appearing in the 1980 film Star Wars Episode V: The Empire Strikes Back. In the original films, he trains Luke Skywalker to fight against the evil Galactic Empire. In the prequel films, he serves as Grand Master of the Jedi Council and as a general in the Clone Wars. In 2007, Yoda was selected by Empire magazine as the 25th greatest movie character of all time. On their list of the 100 Greatest Fictional Characters, Fandomania.com ranked Yoda at number 60. A lifesize statue of Yoda greets visitors to Lucasfilm's Letterman Digital Arts Center in San Francisco's Presidio, the headquarters of Industrial Light and Magic. - Wikipedia
-
To view and print this model you will need Pepakura Viewer Free Version (link at the end of this post).

The Cartoon Version
Yoda é um personagem fictício no universo de Star Wars (Guerra nas Estrelas). Ele aparece em todos os filmes, exceto em Star Wars Episódio IV: Uma Nova Esperança. Frank Oz, célebre criador dos Muppets, é o responsável pela sua voz. Possui apenas 75 centímetros, mas foi um sábio Mestre Jedi que liderou o Conselho Jedi por anos. Medindo meros 75 centímetros de altura, Yoda é um membro masculino de uma raça misteriosa. Ele foi o Grande Mestre da Ordem Jedi, um dos membros mais importantes do Alto Conselho Jedi nos últimos dias da República Galáctica, e o mais sábio, velho, e poderoso Mestre Jedi de todos os tempos. Ele tinha excepcionais habilidades no combate de sabre de luz, onde usava as técnicas acrobáticas da Forma IV. De 300 ABY até 19 ABY ele treinou quase todos os Jedi da Galáxia—como Grande Mestre, ele instruia todos os Younglings do Templo Jedi antes de eles serem adotados por um mestre. Entretanto, o único Jedi da República que não foi treinado por Yoda foi Anakin Skywalker. O estudante mais importante de Yoda foi Luke Skywalker, o qual Yoda treinou para ser o futuro dos Jedi. Tendo treinado o primeiro membro da Nova Ordem Jedi, Yoda serviu como canal entre as duas ordens, preservando a chama Jedi para uma próxima geração. - Wikipedia
-
Para visualizar e imprimir este modelo você precisará do Pepakura Viewer Versão Gratuíta (link no final deste post).
Link to download the model:
Star.Wars.Grand.Master.Yoda.Paper.Model.by.Piromodel
Link to Pepakura Viewer Free Version:
Pepakura.Viewer.Free.Version.Official.Page
More Sci-Fi Paper Models related posts:
Dune`s Spice Harvester Paper Model - by The 4ce
Star Wars` Chewbacca Big Head Paper Toy - by Chemical 9
Spindrift Space Ship Paper Model - by Gary Pilsworth - via Dpileggi
Perry Rhodan - Stardust Space Ship - by Paper Aviation