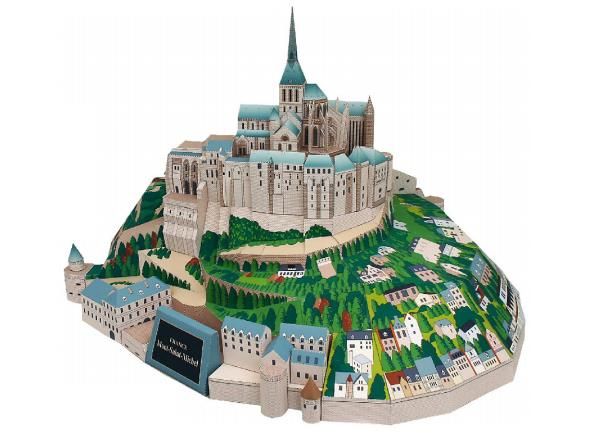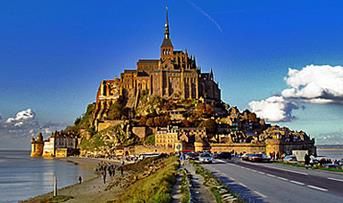 The Real Thing - By Day...
This really beautifull paper model diorama of Mont-Saint-Michel, In France, was created by Japanese designer S.Umekawa, comissioned by Canon website.
Mont Saint-Michel is a rocky tidal island 247 acres in size, and is a commune in Normandy, France. It is located approximately one kilometre (just over half a mile) off the country's northwestern coast, at the mouth of the Couesnon River near Avranches. The island's highest point is 92 metres (301 feet) above sea level. The population of the island is 44, as of 2009. The island has held strategic fortifications since ancient times, and since the eighth century AD been the seat of the monastery from which it draws its name. One of France's most recognisable landmarks, Mont Saint-Michel and its bay are part of the UNESCO list of World Heritage Sites and more than 3 million people visit it each year. - Wikipedia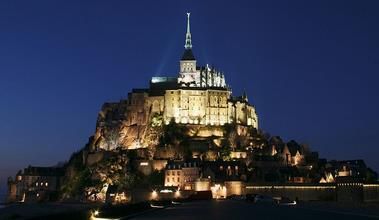 ...And By Night.
Este belíssimo diorama de papel do Monte San-michel, na França, foi criado pelo designer japonês S.Umekawa, para o site Canon.
O Monte Saint-Michel é um ilhote rochoso na foz do Rio Couesnon, no departamento da Mancha, na França, onde foi construído uma abadia (abadia do Monte Saint-Michel) e santuário em homenagem ao arcanjo São Miguel. Seu antigo nome é "Monte Saint-Michel em perigo do mar" (Mons Sancti Michaeli in periculo mari). Este mosteiro, fortificado no século XIII, integra um conjunto com mais três cidades cujas fortificações e desenvolvimento são notáveis: Aigues-Mortes (1270-1276), ponto de reunião dos Cruzados rumo à Terra Santa, Carcassone, célebre por suas defesas, e Avignon, sede alternativa da Cristandade (1309-1377). Estas cidades fortificadas, denominadas "bastides" marcavam a fronteira dos reinos ao final da Idade Média, servindo como elementos de defesa e dando ao povo novas oportunidades sociais. Foram construídas mais de 300 só na França, entre os anos de 1220 e 1350. Além das "bastides", foram projetadas e construídas em toda a Europa, de Portugal à Polônia, e nomeadamente no sudoeste da França, entre 1136 e 1270 aproximadamente, numerosas "villeneuves" (cidades novas), que muito contribuíram para o nascimento e consolidação de uma classe social burguesa. - Wikipedia
Link:
Mont.Saint.Michel.In.France.Paper.Model.by.S.Umekawa.Canon
More Architecture and Buildings Paper Models related posts:
Hamlet Medieval Village - by Alternate Realms - Vilarejo Medieval
South Africa Gas Station Paper Model - by Etiennedup
Swiss Wood Cabin - by Papermau - Cabana de Madeira Suíça
Hungarian Clock Tower - by Somodi Zoltan - Torre do Relógio Húngara