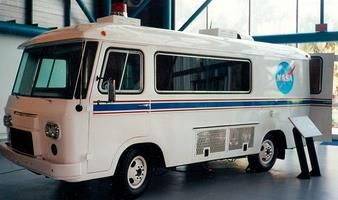 The Real Thing
Julius Perdana, from Paper Replika Indonesian website, designer of this cool paper model says:
-
"Requested by Francisco Javier Montes at Paper Replika Friends Facebook group, I made this NASA astronaut van (Astrovan) to fill a new space category model. The template is quite simple, contains only 2 sheet of paper. When it assembled you will have a nice 1:48 vehicle scale model. NASA used a classic Clark Cortez Couch as the crew transport."
Julius Perdana, do site indonésio Paper Replika, criador deste modelo bem legal, diz:
-
"Solicitado por Francisco Javier Montes, na página Amigos de Paper Replika, no Facebook, fiz este van de transporte de astronautas da NASA (Astrovan). O modelo é bastante simples, contém apenas duas folhas de papel. Quando montado, você terá um modelo em escala 1/48. A NASA usa um clássico Clark Couch Cortez como transporte de tripulação."
Link:
The.Astrovan.NASA.Astronaut.Van.Paper.Model.by.Paper.Replika
More Space Paper Models related posts:
Mercury Capsule Paper Model - by Pe2tr Card Models
Mercury Capsule In 1/24 Scale - by Ton - via J.Leslie48
Solar System Exploration Paper Models - by Nasa
A Walk In Space - 1966`s Articulated Classic Astronaut Papercraft - by Jack & Jill