The Real Thing - Replica
A very well done paper model of the Russo-Balt C24/40 Armoured Car, created by designer Andriy Romanchuk, via Landships II website. "In August 1914, on the initiative of the Minister of the Military Adjutant General Sukhomlinov a "machine-gun armored car battery" was formed. This was to be equipped with armoured cars based on the chassis of the Russo-Balt car "S24/40" with engines rated at 40 hp. The armoured body was developed by A.Ya. Grauen with suggestions by Colonel Alexandr Dobrzhanskaya, who became the first commander of the 1st automotive machine gun company. The armour was quite thin (3.5mm) but the sloped plates somehwat improved resistance to fire. The company was formed very quickly, and on Oct. 19 went to the front equipped with 8 cars and remained there throughout the war, except for a three-month break due to mechanical overhaul. By the end of 1921 three "Russo-Balt" survived from the first division."
-
Landships II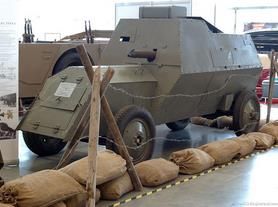 The Real Thing- Original
"Em agosto de 1914, por iniciativa do Ministro Sukhomlinov uma "bateria de carros blindado com metralhadoras" foi formado. Era formada por carros blindados montados nos chassis do carro Russo-Balt "S24/40" com motores de 40 cv. A carcaça blindada foi desenvolvido pelo engenheiro A.Ya. Grauen com sugestões do coronel Alexandr Dobrzhanskaya, que se tornou o primeiro comandante da primeira companhia blindada. A couraça era muito fina (3,5 mm), mas as placas inclinadas davam maior resistência ao fogo. A companhia foi formada muito rapidamente, e em 19 de outubro foi para a frente de batalha equipada com 8 carros e lá permaneceu durante toda a guerra, exceto por um intervalo de três meses, devido à revisão mecânica. Até o final de 1921, três "Russo-Balt" sobreviveram."
Link to dowload mais page:
Russo-Balt.Armoured.Car.Paper.Model.by.Andriy.Romanchuk.via.Landships.II
More Paper Models of WWI Military Vehicles related posts:
The Kaiser Bussing Paper Model - by Vladcorail - via DeviantArt
Renault FT 17 Paper Model- The World's First Modern Tank - by PeaGrafis - via Le Forum En Papier
1927`s Interwars Light Tank T1E1 Paper Model - by Alberto Perilli - via Thailand Namotasa
Soviet Light Tank T 18 Paper Model - by World of Paper Tanks - Tanque De Guerra Soviético