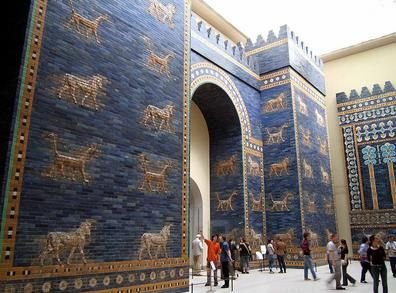 The Real Thing - Pergamon Museum
A nice model by Spanish designer J.Ossorio. This is the Ishtar Gate In Babilonia. Perfect for School Works, Dioramas or RPG Games.
The Ishtar Gate was the eighth gate to the inner city of Babylon. It was constructed in about 575 BC by order of King Nebuchadnezzar II on the north side of the city. Dedicated to the Babylonian goddess Ishtar, the gate was constructed using glazed brick with alternating rows of bas-relief mušḫuššu (dragons) and aurochs. The roof and doors of the gate were of cedar, according to the dedication plaque. Through the gate ran the Processional Way, which was lined with walls covered in lions on glazed bricks (about 120 of them). Ishtar Gate has only gods and goddesses which include Ishtar Adad and Marduk. Statues of the deities were paraded through the gate and down the Processional Way each year during the New Year's celebration. Originally the gate, being part of the Walls of Babylon, was considered one of the Seven Wonders of the world until it was replaced by the Lighthouse of Alexandria; in the 3rd century BC. A reconstruction of the Ishtar Gate and Processional Way was built at the Pergamon Museum in Berlin out of material excavated by Robert Koldewey and finished in the 1930s. It includes the inscription plaque. It stands 47 feet high and 100 feet wide (14 meters by 30 meters). The excavation ran from 1902 to 1914, and, during that time, 45 feet of the foundation of the gate was uncovered. It was a double gate; the part that is shown in the Pergamon Museum today is the smaller, frontal part. The larger, back part was considered too large to fit into the constraints of the structure of the museum; it is in storage.
-
Wikipedia
One of the 120 Lions That Decorate the Gate
Um modelo bem legal do designer espanhol J.Ossorio. Este é o Portal de Ishtar. Perfeito para trabalhos Escolares, Dioramas ou Jogos de RPG.
O Portal de Ishtar foi o oitavo portal da cidade mesopotâmica da Babilônia. Foi construída por volta de 575 a.C. por ordem do rei Nabucodonosor II no lado norte da cidade. Dedicado à deusa babilônica Ishtar, o portal foi construído em fileiras de azulejos azuis brilhantes mesclados com faixas de baixo-relevo ilustrando sirrushs (dragões) e auroques. O teto e as portas foram feitos em cedro, de acordo com a placa dedicatória. Através do portal corria o caminho procissional lineado por paredes cobertas por leões em tijolos envidraçados (aproximadamente 120 deles). Estátuas de divindades eram conduzidas através do portal durante as procissões uma vez por ano durante a celebração do Ano Novo. Originalmente o portal foi considerado uma das Sete Maravilhas do Mundo Antigo, sendo substituído pelo Farol de Alexandria algumas centenas de ano a frente. A reconstrução da Porta de Ishtar e da via procissional foi feita no Museu do Antigo Oriente Próximo, uma seção do Museu Pergamon em Berlim, utilizando o material escavado por Robert Koldewey, tendo sido finalizada em 1930. Inclui também a placa de inscrição. Possui uma altura de 14 metros e extensão de 30 metros. A escavação se deu entre 1902-1914, durante esse tempo foram descobertos 15 metros até a fundação do portal. Partes do portal e leões da via procissional se encontram espalhados por diversos museus ao redor do mundo. Apenas dois museus adquiriram dragões enquanto leões estão em alguns poucos museus.
-
Wikipedia
Link:
Ishtar.Gate.In.Babilonia.Paper.Model.by.J.Ossorio
More Ancient Architecture and Buildings related posts:
Pompeii Stand For Mini Figures - by Papermau - Download Now!
Petra Treasure Paper Model In 1/72 Scale - by Papermau - Assembling The Model
The Temple Of Artemis At Ephesus - by Delta Seven Studios
Constantine's Arch and the Roman Colosseum - by Travel & Stuff 4 Kids