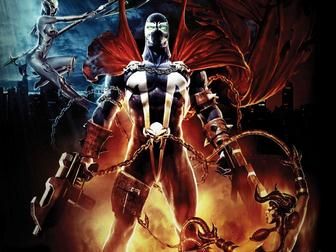 The "Real" Thing
Spawn is a fictional character, a comic book superhero who appears in a monthly comic book of the same name published by Image Comics. Created by writer/artist Todd McFarlane, the character first appeared in Malibu Sun #13 (May 1992). Spawn was ranked 60th on Wizard magazine's list of the Top 200 Comic Book Characters of All Time, 50th on Empire magazine's list of The 50 Greatest Comic Book Characters and recently 36th on IGN's Top 100 Comic Book Heroes. The series has spun off several other comics, including Angela, Curse of the Spawn, Sam & Twitch, and the Japanese manga Shadows of Spawn. Spawn was adapted into a 1997 feature film, an HBO animated series lasting from 1997 until 1999, and a series of action figures whose high level of detail made McFarlane Toys known in the toy industry.
-
Wikipedia
This cool paper model was created by French designer Paper Juke.
Spawn é um personagem de quadrinhos criado por Todd McFarlane em 1992. Spawn era o agente da CIA Al Simmons, que após ser morto numa armadilha armada por seu chefe vai para o inferno. Lá, ganha poderes após negociar com o demônio Malebolgia para se tornar um "filho do inferno". Spawn depois revolta-se contra os demônios e passa a enfrentar as criaturas sobrenaturais e da Máfia. Além da série de HQ que tem o mesmo nome do personagem, Spawn estrela um filme, uma série de desenho animado e vários jogos de video-game. Spawn se tornou uma franquia comercial formidável, gerando uma série animada de grande sucesso no canal HBO, um filme live-action, cards, etc... Além disso, McFarlane também fundou a McFarlane Productions, que fabrica todos os produtos relacionados ao herói, especialmente bonecos e esculturas, reconhecidos por seus grandes detalhamentos.
-
Wikipedia
Este modelo de papel foi criado pelo designer francês Paper Juke.
Link:
Spawn.The.Soldier.Of.Hell.Paper.Model.by.Paper.Juke
More Paper Model Characters related posts:
Spiderman`s Dark Suit Bust Papercraft - by Paper Juke
Easy-To-Build Pirate Paper Toy - by Creative Skidoo
RockTroopers 1 - Simmons Trooper Paper Model - by Noturno Sukhoi
Valentina - Italian Paper Doll - by Zio Prudenzio - Boneca Italiana