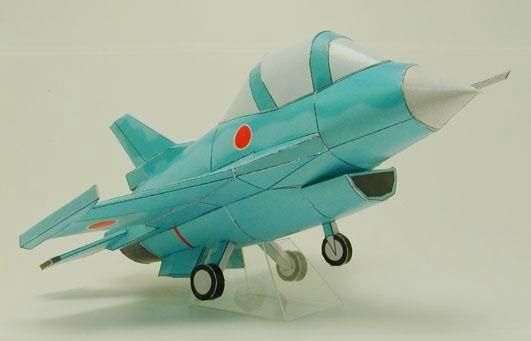 A nice little paper model of the Mitsubishi F-2 Fighter, in SD style (super deformed style), created by designer Break Even, via Pepakura Gallery.
The Mitsubishi F-2 is a multirole fighter manufactured by Mitsubishi Heavy Industries and Lockheed Martin for the Japan Air Self-Defense Force. Production started in 1996 and the first aircraft entered service in 2000.
To view and print this model you will need Pepakura Viewer Free Version (link at the end of this post).
Um modelo de papel bem legal de um Mitsubishi F-2 Fighter em estilo SD (estilo super deformado), criado pelo designer Break Even e postado no site Pepakura Gallery.
O Mitsubishi F-2 é um avião de combate fabricado pela Mitsubishi Heavy Industries e da Lockheed Martin para a Força Aérea de Autodefesa do Japão. A produção começou em 1996 e o primeiro avião entrou em serviço em 2000.
Para visualizar e imprimir este modelo você precisará do Pepakura Viewer Versão Gratuíta (link no final deste post).
Link to download the model:
Link to Pepakura Viewer Free Version:
Pepakura.Viewer.Free.Version.Official.Page
More Paper Models in SD Style related posts:
WW2`s Luftwaffe Dornier 335A In SD Style - by Break Even - via Pepakura Gallery
Little Blue Car Paper Model In SD Style - by Rory Phillips
Star Wars - Darth Vader Paper Toy In SD Style - by Sci Fi Papercraft
Electric Locomotive EF 55 Paper Model In SD Style - by Hol Nice