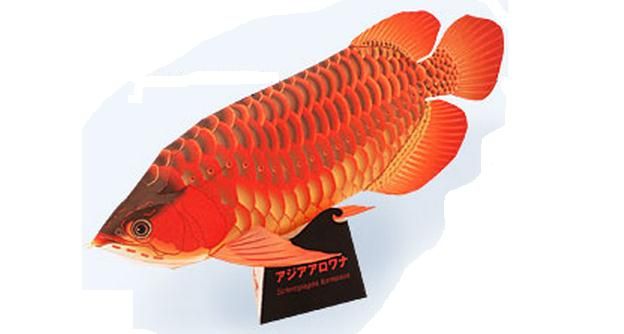 The Paper Thing...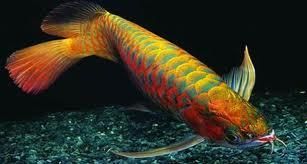 ...and the Real Thing.
Arowanas are freshwater bony fish of the family Osteoglossidae, also known as bonytongues.In this family of fish, the head is bony and the elongate body is covered by large, heavy scales, with a mosaic pattern of canals. The dorsal and the anal fins have soft rays and are long based, while the pectoral and ventral fins are small. The name "bonytongues" is derived from a toothed bone on the floor of the mouth, the "tongue", equipped with teeth that bite against teeth on the roof of the mouth. The arowana is a facultative air breather and can obtain oxygen from air by sucking it into the swim bladder, which is lined with capillaries like lung tissue.
-
Wikipedia
Aruanãs são peixes de água doce da família Osteoglossidae, muitas vezes conhecidos como língua-de-osso. Nesta família de peixes, a cabeça é ossuda e o corpo largo é coberto por escamas enormes, formando um padrão de mosaico. As espinhas dorsal e anal possuem leves raios e são longos, enquanto as peitorais e ventrais são pequenas. O nome língua-de-osso é derivado de um osso dental na parede da boca, a "língua", equipada com dentes que mordem contra os outros no céu da boca. Os peixes podem obter oxigênio pelo ar sugando até o saco de gás, que é alinhado com capilaridades como tecido. O pirarucu é obrigado a respirar ar.
-
Wikipedia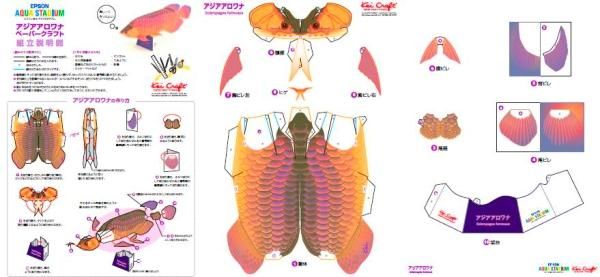 Link:
Arowana.Fish.Paper.Model.by.Epson.Japan.Peixe.Aruanã
More Aquatic Animals related posts:
Geoemyda Japonica Turtle Paper Model - by Konica Minolta - Tartaruga Japonesa
Sea Creatures - by Paper Museum - Criaturas Marinhas
Japanese Fish Collection - by KJ-Graphic - Peixes Japoneses
Lobster Paper Model - by Kozin-Z - Lagosta Em Papercraft