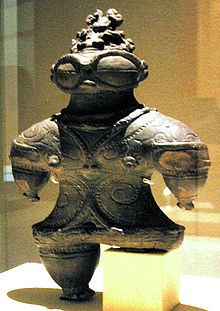 The Real Thing - 1000 - 400 BC
Julius Perdana, the Indonesian designer of this very original paper model says:
-
"Dogu simply means a "clay figure" in Japanese. This "Dogu" is some say a representation of a spirit, others say it was an Idol figure of a woman that symbolized a fertility which also found in other places in the world including Europe. Dogu came in many shape, but this one is with a distinct style, It is the goggle detail that made this style unique. Because the strange shape that was quite beyond its era, some Ancient Alien Theorist believe it was a depiction of an Ancient alien who visited Japan in distance past as seen on TV program on History Channel."
Julius Perdana, o designer indonésio deste modelo bem original, diz:
-
"Dogu significa simplesmente "figura de barro" em japonês. Este "Dogu",alguns dizem, é a representação de um espírito, outros dizem que é um ídolo de uma mulher que simbolizava a fertilidade, também encontrado em outros lugares do mundo, incluindo a Europa. O Dogu tem muitas formas, mas este de destaca dos demais pelo detalhe dos olhos, semelhantes a viseiras ou óculos, o que o faz único no mundo todo. Por causa deste estranho detalhe, completamente incomum para a época em que foi feito, alguns teóricos acreditam que esse Dogu seja a representação de um alienígena antigo que visitou o Japão num passado muito distante, como visto em um especial do canal History Channel."
Link:
Ancient.Japanese.Dogu.Ancient.Alien.Paper.Craft.by.Paper.Replika
More Ancient Paper Models related posts:
Tutankamon`s Death Mask Paper Model - by Papermau - Máscara de Tutankamon
Moai Statues of Easter Island, Chile - by Canon - Estátuas Moai
Roman Castrum In Romania - by Papermau - Download Now!
The Petra Treasure Paper Model - by Papermau - Download Now! Tesouro De Petra, na Jordânia
A Dogu figure from 1000-400 BC