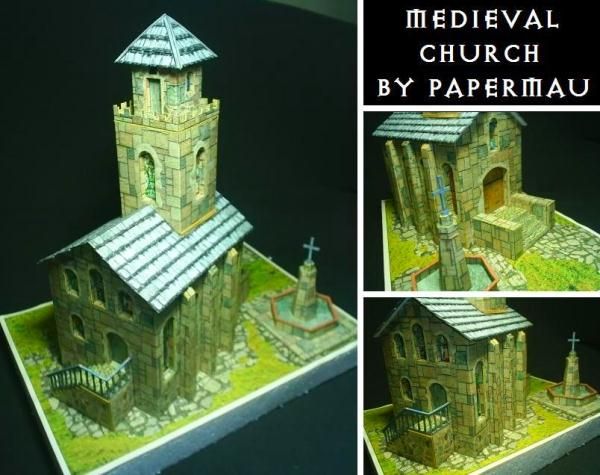 This is the Medieval Church, a paper model originally posted on the blog on June, 23, 2011.
Made with Sketchup, Pepakura and texturized with MSPaint
.
Sketchup and Pepakura models
included in .rar file to
help with assemble.
I did a PDF format version, thereby removing printing errors, since all sheets are automatically the same resolution and size.
I kept the JPG format version
, for
those who want to customize the templates.
This is a
model full of details,
as can
be seen in its 21 windows
, which has
stained glass windows with unique images in each.

Some of the Stained Glass Windows
Esta é a Igreja Medieval,
um modelo de papel
originalmente postado em 23 de Junho de 2011
, aqui no blog.
Ela foi desenhada no Sketchup, desdobrada no Pepakura e texturizada no MsPaint.
Os modelos em
Sketchup e Pepakura
estão incluídos no
arquivo para download
, pois são
úteis na montagem deste modelo.
Eu fiz uma versão em formato PDF
, eliminando assim
erros de impressão
, já que
todas as folhas ficam automaticamente na mesma resolução e tamanho
. Mantive a
versão em formato JPG
, para aqueles que
quiserem customizar o modelo
. Este é um
modelo cheio de detalhes
, como
pode-se ver em suas 21 janelas
, que tem
vitrais com imagens únicas em cada uma delas.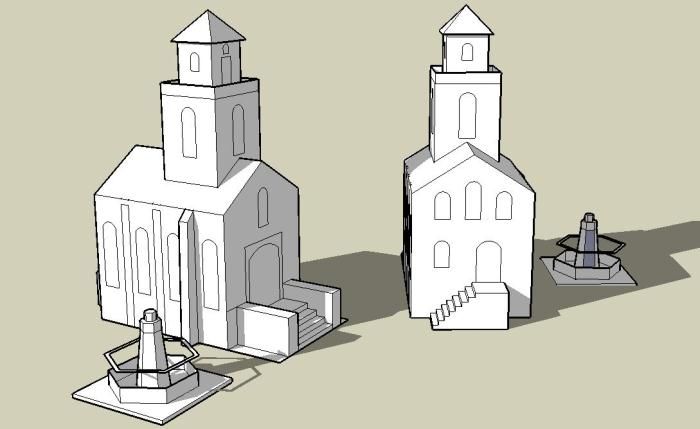 The First Sketch
Download:
Toys.In.The.Attic.by.Papermau.Medieval.Church.Paper.Model
About Toys In The Attic by Papermau:
Toys in the Attic
is
the third album by American rock band Aerosmith
, released in
April 1975.
Is also a
name of a 1963`s drama movie with Dean Martin and Geraldine Page.
Now,
because this is a really nice name,
this will be
the name of a new session of Papermau`s blog.
In this session
I will share old original and exclusive paper models posted more than a year
here in the
blog
. It's
a way of not letting these models get lost
among over
3,000 posts in a year and a half of existence of the blog.
Toys in the Attic (Brinquedos no Sotão)
é o nome do
terceiro album da banda norte-americana de rock Aerosmith,
lançado em
1975
. É também o nome de um
drama para o cinema de 1963 chamado aqui no Brasil de Na Voragem das Paixões, que contava no elenco com Dean Martin (o parceiro do Rat Pack e de Jerry Lewis) e Geraldine Page.
Agora, porque
eu acho esse um título muito legal, Toys in the Attic
será o
nome de uma nova sessão do blog Papermau
. Nesta sessão eu
publicarei antigos modelos de papel originais e exclusivos postados há um ano ou mais.
Esta é a
maneira que encontrei
para que estes modelos
não fiquem perdidos e esquecidos entre mais de três mil postagens feitas em um ano e meio de existência do blog.
More Toys In The Attic related posts:
Toys In The Attic - by Papermau - Chevrolet Chevelle 1970 - Dark Version
Toys In The Attic - by Papermau - Desktop Architecture - Series 04 Brazilian Colonial Churches
Toys In the Attic - by Papermau - Old Brazilian "Sobrado" - Velho Sobrado Brasileiro
Toys In The Attic - by Papermau - Volkswagen Transporter Van Brazilian Kombi