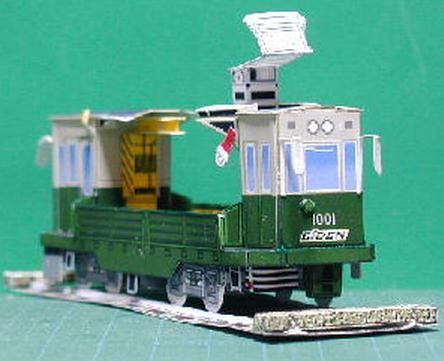 A little Railway Transportation Wagon called Kirara, perfect for dioramas or Train sets. This cool paper model was created and built by Japanese designer Win 1999.
Um pequeno Vagão de Transporte Ferroviário apelidado de Kirara, qie é perfeito para dioramas ou maquetes ferroviárias. Este belo modelo foi criado e montado pelo designer japonês Win 1999.
Link:
The.Weekend.Pic.Kirara.Railway.Transportation.Wagon.Paper.Model.by.Win.1999
About "The Weekend Pic"
-
It will always be an image of a free model,
built
by a
designer found in forums, blogs or sites around the Net.
I
would like to ask the cooperation
of
all friends of the blog
to
indicate
some models for
this weekly post.
The
only requirement:
the model
needs to be freely distributed
and there
must be a link to this assembly or construction report.
Sobre "The Weekend Pic"
- Será
sempre uma imagem de um modelo gratuíto,
construída por um
designer achado ao acaso em foruns, blogs ou sites ao redor da Net.
Eu
gostaria de pedir a colaboração de todos
para indicar
modelos para este post semanal.
A
única exigência
: o modelo
tem que ser de livre distribuição
e tem que
haver um link para esta montagem, de preferência com fotos de várias etapas da montagem.
More The Weekend Pics related posts:
The Weekend Pic - French Vintage Locomotive - by Michel Cerfvoliste / Agence Eureka
The Weekend Pic - 1911`s White-LKW Truck - by Horst DH / Bastelbogen Online
The Weekend Pic - Fire Brigade Truck Vintage Style - by Papermau
The Weekend Pic - Passenger-Carrying Coache - by MiZi / Paper Camera