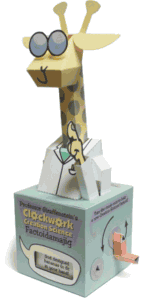 The "Sorry" Nail
Gather in a site: Japanese Christianity and papercraft and you have a very entertaining page.
A really nice and unusual paper model automata of a "Professor Giraffe", by Japanese website Happy Origami Ministry. When you rotate the lever appear brilliant phrase, like "Dinosaurs still live in Africa! "or" God designed bananas to fit in your hand!"
Even a nail papercraft as used in ancient crucifixions can be found on this page.
And the nail is written: - Sorry, Jesus!
Reúna em um site: japoneses, cristianismo e papercraft e você tem uma página muito divertida.
Um modelo de papel estilo automata bem legal e diferente de um "Professor Girafa". Quando você gira a alavanca aparecem frase geniais, como: "Dinossauros ainda vivem na África" ou "Deus projetou as bananas para caberem na sua mão!"
Até mesmo um prego (ou cravo) de papercraft como os usados nas crucificações antigas, pode ser encontrado nesta página.
E no prego está escrito: - Desculpe, Jesus!
Link:
Professor.Giraffenstein`s.Creatrion.Automata.Paper.Model.by.Happy.Origami.Ministry
More Automata and Unusual Paper Models related posts:
Jesus Riding A Dinosaur Paper Toy - by Digitprop - Jesus Cavalgando Um Dinossauro
Animated Tyrannosaurus Rex - by Kids Net - Tiranossauro
Holocaust Gas Van Paper Model - by - RocketManTan
Da Vinci`s Mechanical Hammer - by Paper Pino - Martelo de Da Vinci