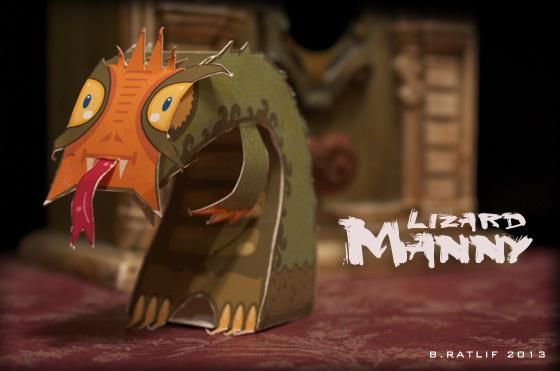 Bryan Ratliff, designer of this nice paper toy says:
-
"The elusive Lizard Manny is out and about from his home. Perhaps looking for a nice bug or juicy spider to eat or just stretching his legs."
Bryan Ratliff, designer deste paper toy bem legal, diz:
"O indescritível Lagarto Manny está sempre zanzando por aí. Talvez atrás de um besouro suculento ou um suco de aranha, ou apenas deitado, esticando as pernas.
Link:
Lizard.Manny.Paper.Toy.by.Bryan.Ratliff.Chemical.9
More Paper Toys related posts:
Lapins Crétins Paper Toys In Cubic Style - by UHU France
Elvira, Mistress of the Dark Paper Toy - by Rabisco Pop - A Rainha Das Trevas
Paper Toy Robots In Cubic Style - by 7eater`s Cubees
We All Need Some Nirvana Sometimes Paper Toys - by Little Plastic Man