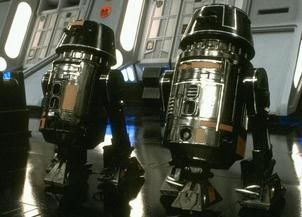 The "Real" Things - Black Version
By Noturno Sukhoi team, more one cool paper model of Star Wars Universe!
The R5-series astromech droid was a line of low cost astromech droids built by Industrial Automaton. Based upon the success of prior astromech models, such as the wildly popular R2-series, Industrial Automaton intended the R5-series to cater to budget buyers at the cost of some functionality. Because of their inexpensive construction, however, droids of this series were plagued by a number of design flaws—most obviously, a sullen demeanor and sharp attitude resulting from deficiencies in the machine's personality matrix.
-
Star Wars Wikia
Da equipe do site Noturno Sukhoi, mais um belo modelo do universo de Star Wars!
A"R5 Series" é uma linha de "Dróides Astromecânicos" de baixo custo, construída baseando-se no sucesso dos modelos mais antigos e populares da "SérieR2", mas atendendo a compradores de orçamento reduzido, ao custo da perda de algumas funcionalidades. Devido à economia na produção, os dróides desta linha sofrem com muitas falhas de projeto, principalmente comportamento mal-humorado e teimosia, devido à falhas na matriz de personalidade da máquina.
-
Noturno Sukhoi
Link:
Star.Wars.R5.Series.Astromech.Droid.Paper.Model.by.Noturno.Sukhoi
More Sci-Fi Paper Models related posts:
Alien Creature Paper Model - by Firefox24680
Star Wars` Tydirium Spacecraft In 1/100 Scale - by Raziel
Star Trek`s USS Enterprise B In 1/700 scale - by Clever Paper Model
Predator Head Papercraft In 1 / 1 Scale - by Noturno Sukhoi