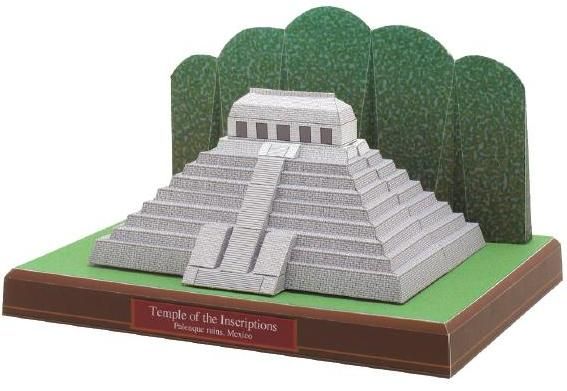 The Real Thing
Palenque
was a
Maya
city state in
southern Mexico
that flourished in the
7th century
. The
Palenque
ruins date back to
100 BC
to its fall around
800 AD
. After its decline it was absorbed into the jungle, which is made up of cedar, mahogany, and sapodilla trees, but has been excavated and restored and is now a famous archaeological site attracting thousands of visitors. It is located near the
Usumacinta River
in the
Mexican state of Chiapas
.
Palenque
is a medium-sized site, much smaller than such huge sites as
Tikal
or
Copán
, but it contains some of the finest architecture, sculpture, roof comb and bas-relief carvings that the
Mayas
produced. Much of the history of
Palenque
has been reconstructed from reading the
hieroglyphic inscriptions
on the many monuments, historians now have a long sequence of the ruling dynasty of
Palenque
in the
7th century
and extensive knowledge of the city-state's rivalry with other states such as
Calakmul and Toniná
. The most famous ruler of
Palenque
was
Pacal
the Great
, whose tomb has been found and excavated in the
Temple of the Inscriptions
.
By 2005, the discovered area
covered up to 2.5 km² (1 sq mi), but it is estimated that less than 10% of the total area of the city is explored, leaving more than a thousand structures
still covered by jungle
. -
Wikipedia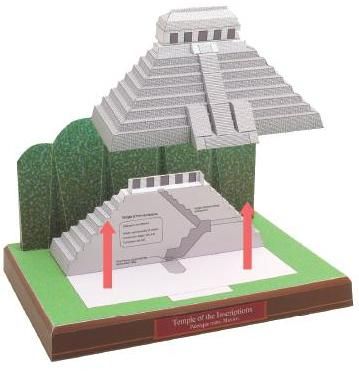 Entre os vestígios deixados pelos maias
, as ruínas de
Palenque
se destacam por seus baixos-relevos em estuque e a originalidade de seu conjunto arquitetônico.
Palenque
é o nome por que ficou conhecido o sítio arqueológico situado no estado de
Chiapas, México
, a 12km da cidade de
Santo Domingo de Palenque
. Pertence ao período clássico da
civilização maia
, entre os anos 300 e 900 da era cristã. Seu nome original pode ter sido
Nachan
, que significa
"cidade das serpentes"
, mas a hipótese nunca foi confirmada.
O período de maior esplendor de
Palenque
foi no
século VII
, quando se elaborou a maior parte de seus relevos, monumentos e edifícios. O apuro técnico na arquitetura, nas inscrições hieroglíficas, nas pinturas (quase todas desaparecidas), nas esculturas e na cerâmica faz da arte de
Palenque
a mais refinada da
América pré-colombiana
.
O palácio de Palenque
, construído sobre uma base piramidal, inclui três muros paralelos que formam dois corredores cobertos por falsas abóbadas (feitas com a escora de pedras enfileiradas). Sobressai, no conjunto, uma torre de vigia com vários pavimentos, de tipo incomum na arquitetura pré-colombiana. Nesse e em outros edifícios encontra-se grande quantidade de baixos-relevos em estuque (material à base de cal, areia, gesso e água), que retratam cenas mitológicas e contêm
hieróglifos
com datas e fatos históricos. Por sua extrema delicadeza, são considerados o ponto culminante da arte escultórica maia.
No templo das Inscrições
há um grande painel hieroglífico datado do ano
692
.
Em seu interior
foi descoberta em
1952
a cripta que serviu de tumba para um sacerdote do
século VIII
, cujo altar continha numerosos
artefatos de jade
.
Abandonada e oculta pela floresta
durante séculos,
Palenque
foi descoberta em
1785
. O
rei Carlos III
da
Espanha
promoveu a exploração arqueológica do sítio.
Antonio del Río
realizou os primeiros estudos sobre as ruínas e seus baixos-relevos, que despertaram crescente interesse ao longo do
século XIX
. A partir de
1940
, o
Instituto Nacional de Antropologia e História do México
promoveu a restauração da antiga cidade e patrocinou novos estudos arqueológicos. Desde a década de
1960
o local tornou-se atração turística. -
emdiv.com.br
Link:
Mayan.Temple.Of.The.Inscriptions.In.Mexico.by.Canon
More Paper Models of Ancient Temples related posts:
Ancient Temple Paper Model - by Papermau - Download Now!
Sbeitla Ruins - Tunisia - More Some Advances
Temple Of Horus - by Thomas Pleiner - Templo de Hórus
Athenian Treasury - by Papermau - Next Project