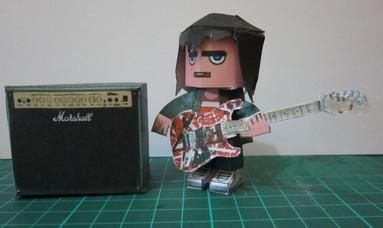 My friend, the indonesian modeler Soetam Rizky built Lemon, the Guitar Player and he kindly allowed me to publish the photos here on the blog.
Many thanks, Soetam Rizky, for this nice assembling and photos.
Meu amigo Soetam Rizki, modelista indonésio, montou o Lemon, o Guitarrista e gentilmente permitiu que eu publicasse as fotos aqui no blog. Muito obrigado, Soetam Rizky, por esta montagem bem legal e pelas fotos.
If you want to build your own Lemon, the Guitar Player, you will find the link to download this model at the end of this post.
Se você quiser montar o seu próprio Lemon, o Guitarrista, encontrará o link para download no final deste post.
Link:
Rock.n.Roll.Circus.Lemon.Out.Of.Jail.by.Papermau.Download.Now!
More Papermau Original Paper Models related posts:
Brick Street Diorama - by Papermau - Rua de Paralelepípedos
Old Brazilian "Sobrado" - by Papermau - Velho Sobrado
St Michael Old Chapel - by Papermau - Capela de São Miguel - Download Now!
Desktop Architecture - Series 04 - by Papermau