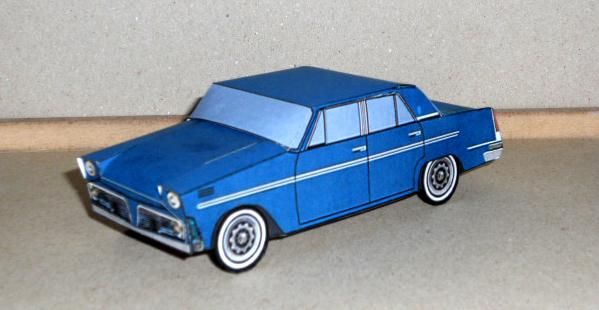 Model Assembled and Photo by Hiperfanauto
The Real Thing
More one great model by Brazilian motoring site Hiperfanauto!
The Willys Aero
was a
line of passenger cars
manufactured first by
Willys-Overland
and later by
Kaiser-Willys Corporation
from
1952 through 1955
. The
father of the Aero was Clyde Paton
, former
engineer for Packard Motor Car Company.
The
Eagle and Lark
models were built from
1952 to 1954.
A
Wing model was available only in 1952,
a
Falcon model in 1953,
and a
taxicab in very limited production in 1953 and 1954
. The
Ace
was the
only model built through all U. S.
production.
1955
saw two new models,
the two- and four-door Ace sedans (renamed Custom shortly into the production run) and two-door hardtop Bermuda.
Production in the U.S.A
. ended that year as Henry J. Kaiser decided to give up the Kaiser and Willys Aero lines and concentrate solely on Jeeps.
A total of
91,377 Aeros were built in Toledo.
Production was moved to Brazil from 1960 to 1971 with Aero, 2600, Itamaraty, and Executivo models.
(
The Willys Aero was sold through Ford do Brasil dealerships until production ceased where the US Ford Maverick replaced the Aero.) 116,967 were built.
-
Wikipedia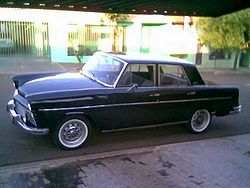 1972`s Brazilian Aero Willys Itamaraty
Mais um belo modelo do ótimo site de automobilismo Hiperfanauto!
Aero Willys foi um automóvel sedan fabricado pela Willys Overland do Brasil entre 1960 e 1971.
O
Aero Willys brasileiro foi lançado em 25 de março de 1960,
mas
seu projeto vinha sendo discutido na montadora brasileira desde 1958.
O
Aero Willys
era um carro herdado de um
projeto americano que havia sido desativado por insucesso.
Lá as versões desse automóvel eram conhecidas como
Aero-Ace, Aero-Eagle, Aero-Wing, Bermuda (um cupê duas portas), fabricados pela Willys Overland dos EUA, com os componentes mecânicos dos Jeep Willys.
Em 1961 a diretoria da Willys Overland do Brasil
tomou a decisão de inovar completamente o
Aero Willys
e torná-lo um carro inteiramente novo, com estilo próprio e linha inédita no catálogo internacional.
Em julho de 1963 era lançado o Aero Willys 2600,
o
primeiro carro genuinamente brasileiro.
As primeiras peças, como os primeiros carros
eram inteiramente feitas à mão.
O sucesso foi imediato, tanto que em
1966 foi lançado uma nova versão mais luxuosa batizada de Itamaraty,
também chamado de
Palácio sobre Rodas.
O
Itamaraty vinha equipado com acessórios a época sofisticados como bancos de couro e ar condicionado
. Em
1967
, foi lançada a
Itamaraty Executivo, a primeira limusine fabricada em série no Brasil.
-
Wikipedia
Link:
Aero.Willys.Brazilian.Paper.Car.by.Hiperfanauto
More Brazilian Paper Cars and Vehicles related posts:
1970`s Dodge Polara Paper Car - by Hiperfanauto
Gurgel - Brazilian Cars - by Papelmod - Carros Brasileiros - Gurgel
Brazilian Volkswagen Passat 72 - by Paper Slot Car
Brazilian Volkswagen SP2 Paper Car - by Ronaldo M