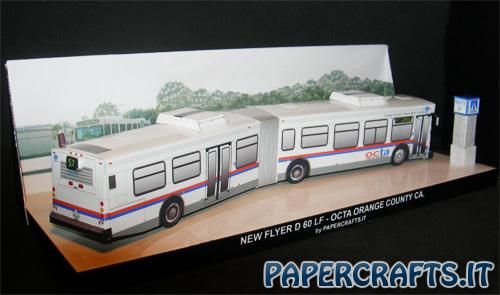 This nice and realistic estyle paper bus is im HO scale and was created by Italian website Papercrafts.It.
The Orange County Transportation Authority (OCTA) is the public sector transportation planning body and mass transit service provider for Orange County, California.
- Papercrafts.It
Este modelo de papel em escala HO de um ônibus californiano foi criado pelo site italiano Papercrafts.It.
Link to the model:
Octa.Newflyer.D60.Bus.Paper.Model.by.Papercrafts.It
More Paper Models of Buses related posts:
Japanese Buses And Cabs - by Ibukikobo - Ônibus E Táxis Japoneses
Old Bus to Nowhere - by Papermau - Ônibus Para Lugar Nenhum
Funny Paper Bus For Kids - by Shiroi Prefecture
Chinese Buses Paper Models - by C H Garage - Ônibus Chineses