The Myasishchev M-4 prototype was developed during the early 50's
and
first flew in January of 1953.
The aircraft was
revealed to the world on 1 May 1954
when the
M-4, accompanied by four MiG-17's
, overflew
Moscow's Red Square
during the
May Day parade.

The aircraft was assigned the
NATO reporting name of "Bison".
The initial
M-4 (Bison-A) went into serial production later in 1954 and entered service.
The
more powerful 3M (Bison-B)
first
flew in early 1955 and entered service in 1957.
-
Wikipedia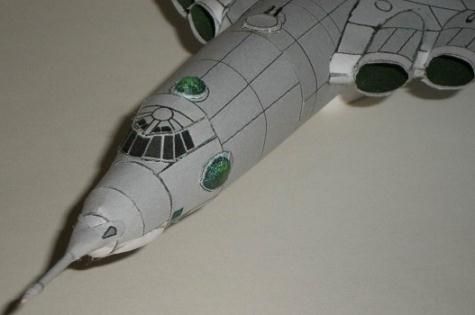 O avião protótipo Myasishchev M-4 foi desenvolvido durante a década de 50 e voou pela primeira vez em janeiro de 1953.
A aeronave foi revelada ao mundo em
1 de Maio de 1954,
quando o
M-4, acompanhado por quatro MiG-17,
sobrevoou a
Praça Vermelha de Moscou durante os desfiles de 1º de Maio.
Foi
atribuído o nome de "Bison" nos relatórios da OTAN.
O
primeiro M-4 (Bison-A)
entrou em produção mais tarde, e
engajou em serviço em 1954.
O
3M mais poderoso (Bison-B)
voou pela
primeira vez no início de 1955
e
entrou serviço em 1957.
-
Wikipedia
The Real Thing
Link:
Myasishev.M.3.Bison.Soviet.Aircraft.by.Hollo.Papirmakett
More Postwar Aircraft and Planes related posts:
Chinese Mig-17 In 1/72 Scale - by Gabriel Panai - Jato Chinês
WW2`s Lavochkin La-7 Soviet Aircraft - by Stahlhart
Soviet Transport Helicopter Mi-4 - by Di-3 - via Kartombau.De
Bell X-1 Supersonic Aircraft Paper Model - by Mamecraft