Virtual Assembly by Papermau
A simple house/cabin, in just one sheet, in black and white. Nice for kids start with paper models. By Comenius-Projekt Montessori website.
Uma casa/cabana simples, em apenas uma folha e em preto e branco. Ótimo para crianças montarem. do site Comenius-Projekt Montessori.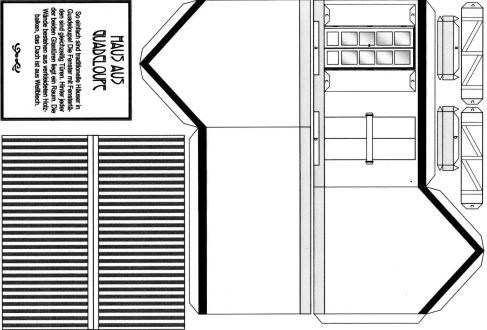 "Here a model of a tiny house from Guadeloupe. Similar kinds of huts already served the slaves as shelter. Although bigger and more comfortable houses are in the majority today these simple accomodations can still be found in the streets of the archipelago"
. -
Comenius-Projekt Montessori
Eis aqui uma casinha simples de guadalupe. Parecida com muitas cabanas antes usadas como abrigo por escravos. Hoje em dia, as casa na ilha são maiores e mais confortáveis, mas ainda pode-se encontrar várias dessas casinhas pelas ruas do arquipélago. -
Comenius-Projekt Montessori
Link:
Guadeloupe.Island.House.Paper.Model.by.Comenius.Projekt.Montessori
More Paper Models for Kids related posts:
Seven Planets Picture Frame - by Kai & Dakota
Paper City Paris Papercraft - by Joel - Paris Em Papel Para Crianças
Castle Facade for Miniatures - by Bbi Collectible - Fachada de Castelo
Miniature Village - by Meddybemps - Vila Em Miniatura