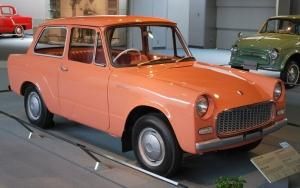 The Toyota Publica was a small car manufactured by the Japanese automaker Toyota from 1961 to 1978.
Conceived as a
family car to fulfil the requirements of the "national car concept"
, it was the
smallest Toyota car during that period
and was
superseded in that role by the Toyota Starlet,
which itself started out as a version of the
Publica
. It was available as a
2-door vehicle only
, but in a selection of body styles, ranging from the
base sedan
through a
station wagon, convertible, coupé and even a pickup,
which
outlived the other models by a decade,
and spawned other models, such as
the Toyota Sports 800 or Toyota MiniAce.
-
Wikipedia
Link: 1961`s.Toyota.Publica.Paper.Car.by.Gazoo
More Cars and Vehicles related posts:
Grand Theft Auto Paper Cars - by IGrandTheftAuto.Com
Mazda K 360 Three-Wheeled Vehicle - by Nurarihyon
Nissan Calsonic Skyline 2003 Paper Car - by Mamecraft
Ford Hot Rod 32-33 Paper Model - by Pixel Oz