Model Assembled and Photo by Webdude
A perfect replica of the Bulletproof Bomb, from Wacky Races, a 1968`s cartoon from Hanna-Barbera Studios.
Uma réplica perfeita do Carro à Prova De Balas, da Corrida Maluca, um desenho animado de 1968, produzido pelos estúdios Hanna-Barbera.
The "Toon" Thing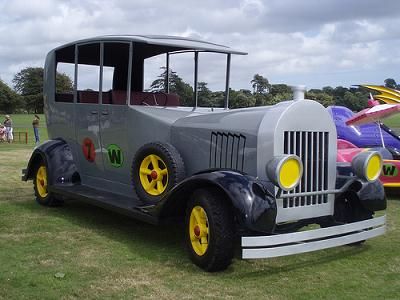 The "Real" Thing
The Bulletproof Bomb
(occasionally referred to as the
"Roaring 20s"
) is a
1920s limousine sedan
, driven by a group of seven
pint-sized gangsters
all of whom sit in the front seat: leader
Clyde
,
Ring-A-Ding
, and five others.
Clyde is a pastiche of Edward G. Robinson's character in the film Little Caesar
and of the male half of
Bonnie and Clyde.
Their usual method of improving the speed of their car is
"Getaway Power"
which is achieved by
extending their feet through the floor of the car and running
. On occasion the
Ant Hill Mob
would use their tommy guns against the other racers. -
Wikipedia
O Bomba Bala (em Portugal) ou Carro-à-Prova de Balas (no Brasil)
, era conduzido pela
Quadrilha Maravilha (em Portugal), Quadrilha de Morte no Brasil,
um grupo de
simpáticos gangsters
. Participaram mais tarde no desenho animado
The Perils of Penelope Pitstop
, onde
Penélope
foi a estrela principal. -
Wikipedia
Link:
Wacky.Races.The.Bulletproof.Bomb.Paper.Model.by.Webdude
More Cars and Vehicles related posts:
Mad Max`s Interceptor Paper Car - by Oniya - via Pepakura Gallery
Clowns` Gang Volkswagen Paper Model - by Mandifolio - Fusca Dos Palhaços
Humvee Papercraft In SD Style - by Bamboogila's Corner
Make Your Own Custom Camaro Paper Car - by Paper Cars Net