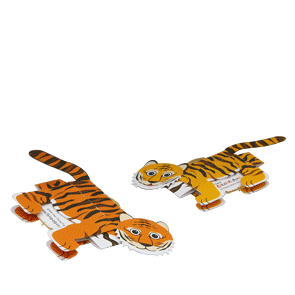 "This is a fun paper craft of a cute tiger
, that
springs up into the air
.
Push the tiger's body from the side
to make him flat, hold him down with your finger,
then quickly let go and watch how the rubber band makes him jump
! Adjust the way you control him to make him
spin, or pop upright like he's woken up from a jungle slumber.
When you finish construction,
put it inside a book or card to give someone a surprise when they open it up!
The rubber band can make the toy fly in an unexpected direction. Parents, please make sure that children play with it safely to avoid injuries"
. -
Canon
"Este é um divertido modelo de papel de um tigre que pula no ar. Empurre o corpo do tigre para o lado lado para fazê-lo ficar achatado, segure-o entre os dedos e então solte-o rapidamente e observe como o elástico faz com que ele pule!
Ajuste a forma como você o soltafazê-lo girar ou dar um bote, como se estivesse na selva. Quando você terminar de montá-lo, coloque-o dentro de um livro ou cartão para que alguém tenha uma surpresa ao abrí-lo.
ATENÇÃO: para montar este modelo você usará um elástico de borracha, desses de amarrar dinheiro, então cuidado, pois o brinquedo pode saltar em uma direção inesperada. Então pais, por favor, certifiquem-se que as crianças brinquem com ele com segurança para evitar lesões"
. -
Canon
Link:
Snap.Ups.Tiger.Paper.Model.For.Kids.by.Canon
More Paper Models for Kids related posts:
Easy-To-Build Little House Papercraft - by Herzovision - Casinha de Papel
Little Bear Paper Toy - by UOL - Pequeno Urso De Papel
3D Town Paper Model Diorama For Kids - by Parents Choice.Org - Cidade De Papel
The Muppets Paper Car - by Disney Family - Carro Dos Muppets